5 Best Heated Gloves to Buy for Winter 2023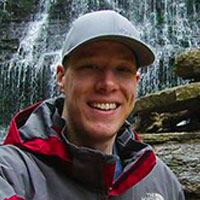 David Jones
Updated: Sep 30th, 2023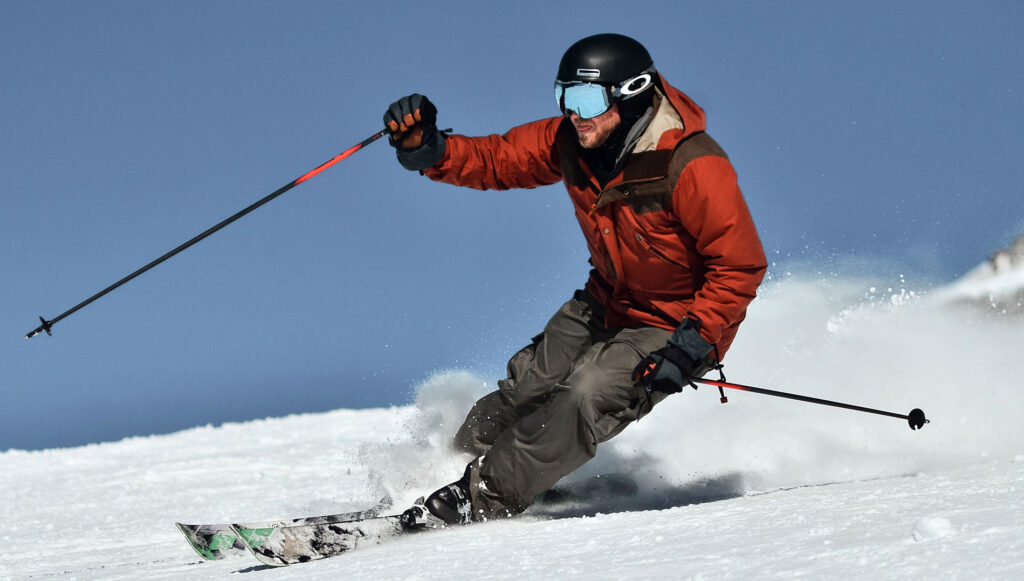 Snow's about to fall, and it's time for your favorite winter activities to fill up your schedule once again. Are your hands ready for the challenge? Well, don't fret, as these heated gloves are to the rescue to keep your hands warm and toasty all winter long. However, with most products that are in-demand, finding the BEST HEATED GLOVES that fit your needs can be stressful. As you might have already witnessed, there are tons of options available on the market today. Some offer a boatload of features, while others are plain worthless. So to spare yourself from this misery, we've scoured the internet to find the best deals that you can get your hands on today. From fast heating to touch sensors to one-of-a-kind material, this roundup absolutely has the heated gloves that are PERFECTLY designed for you.
Read along.
For that comprehensive support and impeccable comfort, the Snugiz is our top choice. These heated gloves tick all the right boxes when it comes to countering the discomforts of the cold season. It features one-size-fits-all protection with specially designed functions that effectively put the cold at bay.
The Snugiz features 4 essential design factors that contribute to its remarkable performance. First is its Thermal Performance Superimposed Design that combines an invisible heating chip with super thick cotton and reinforced PU leather. This style effectively delivers 360° heating in your hands then traps it for long-lasting comfort. So regardless of how cold or extreme the environment may be, the Snugiz will make sure no frostbites.
Next is its temperature control design, conveniently enabling you to switch within the 3 heating modes with zero delays. Hence, targeting your ideal comfort level is no issue. And to make all travels or adventures even more trouble-free, there's also a touch sensor design for quick and easy navigation of your smart devices.
And lastly, the Snugiz features the best wind and waterproofing design out of all the products we've tested. The gloves have a built-in ventilation barrier that prevents moisture from entering the gloves and let sweat vapor escape. There's also a pull-out elastic band to snuggly fit the gloves to your hands for an excellent windproof effect.
Overall, the Snugiz is an absolute standout that can really keep the cold outside. It's even used and approved by Ice Fisherman in Norway for withstanding -25°C temperatures, so you know it's a beast in this category.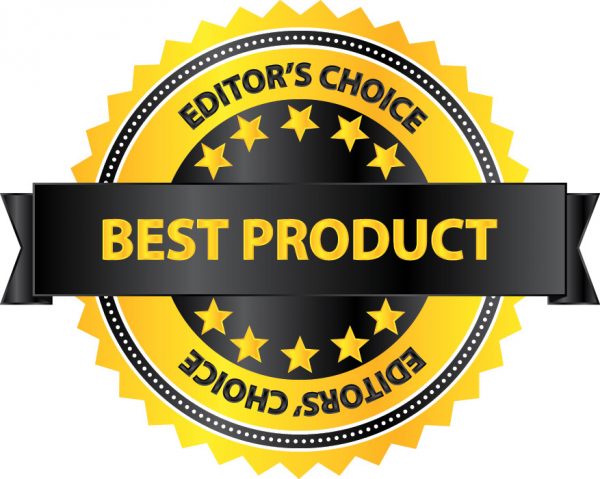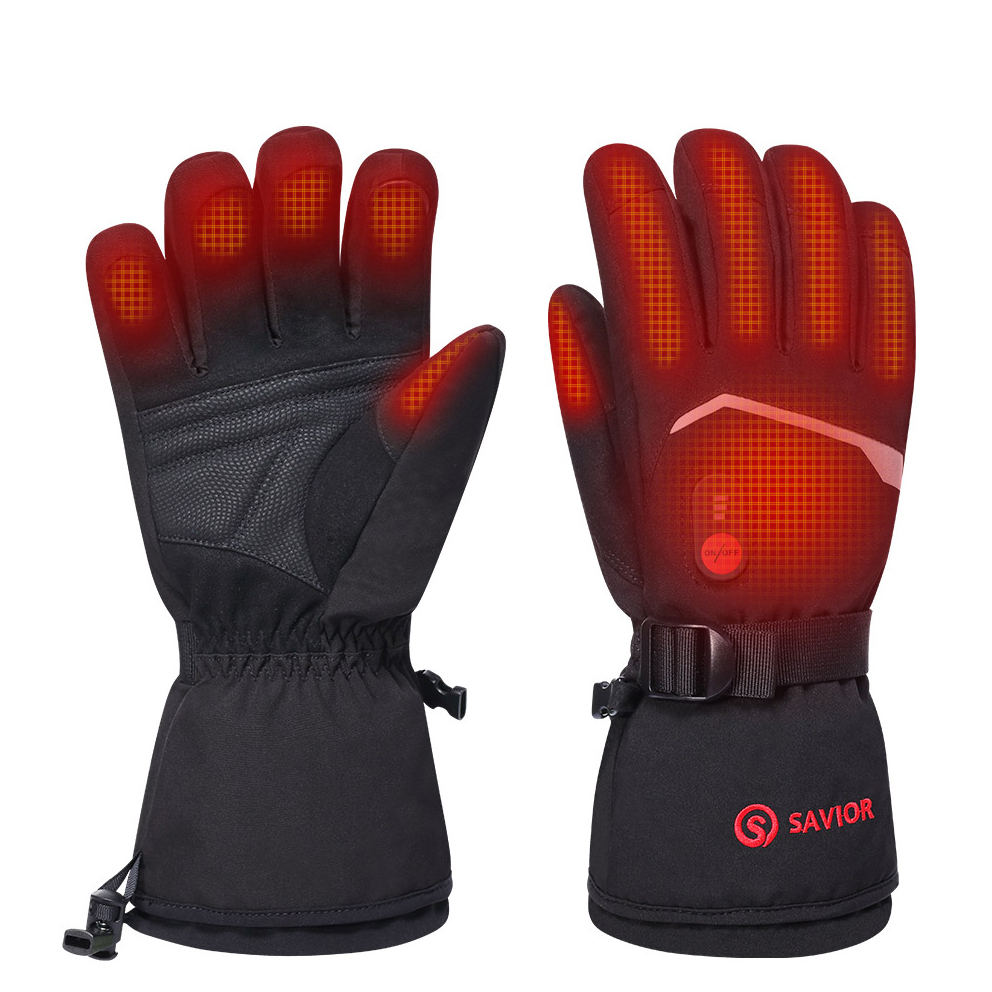 If you're looking for heated gloves that can keep your hands warm and toasty for a longer amount of time during the winter season, we recommend the FuzzHum. 
The FuzzHum heats up fast. Once turned on, the FuzzHum only takes 30 seconds to get the heat up and distribute it all over your hands. These heated winter gloves comes with a glove design that offers larger coverage. 
Depending on your setting, the FuzzHum can last up to 6 hours! 
The FuzzHum also comes with three heat settings – low, mid, and high – which you can easily adjust with just one touch of a button. 
We love that this glove is 100% adjustable. You can easily adjust the fit that suits your comfort. 
The FuzzHum also comes with waterproof and windproof design. Even if it's snowing or raining, you won't have to worry about cold air and water from getting into your gloves. 
Safety-wise, the FuzzHum is excellent. The gloves come with a protective layer to prevent you from getting burned or getting exposed to the wirings. 
The gloves are also made of polyester, which promotes flexibility. 
The FuzzHum comes with a touchscreen-compatible design that makes it easy to use phones even while you're wearing your gloves. The gloves are also non-slip – a feature that make them ideal for hardcore winter activities and sports like skiing!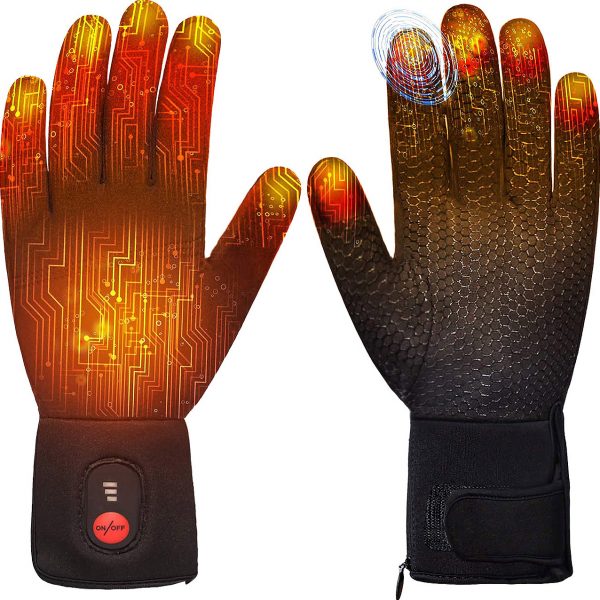 If you're searching for the thinnest and smoothest heated gloves to accommodate you in all your winter adventures—whether as a standalone or an inner layer—then look no further than the Hansmack Heated Gloves. This winter gear uses a microfiber palm and polyester surface with velvet lining for impeccable flexibility and comfort. Like the BeeBon, it also comes with micro-thin stretchable carbon fibers for excellent heat distribution.
However, here's what makes this heated glove a standout. Its soft and breathable material could easily outperform any thin-lined heated gloves on the market today. Thanks to its UL/CE certified lithium-ion battery and upgraded far infrared fiber heating elements, this heated glove can deliver up to 150°F of constant heat up to 7 hours. And controlling your comfort level is as easy as one click of a button, too, with its 3-level heat settings. Indeed, an excellent deal!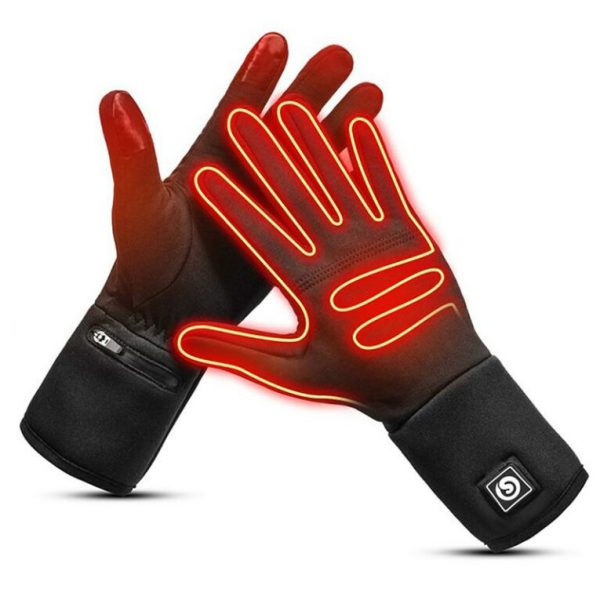 Here's a heated glove perfect as a standalone or an inner glove. The BeeBon Heated Glove is a thin-lined glove that delivers maximum comfort for all indoor and outdoor winter activities. This winter gear packs a 2200 mAh battery capacity that can provide you with long-lasting support than other brands.
The secret of the BeeBon Heated Gloves lies in its top-notch velvet lining and insulating material that guarantees comfort and ease of use. First is its micro-thin stretchable carbon fibers that distribute heat from your wrist up to your fingertips evenly. Next, its 100% polyester-made frees your hands from the frigid cold and resists factors such as water, wind, and snow.
The BeeBon can produce heat up to 150°F and is easily controlled using its 3-level heat adjustment setting for a thinly designed heated glove. It also includes a touch sensor technology to navigate your smartphone and other devices while in use quickly.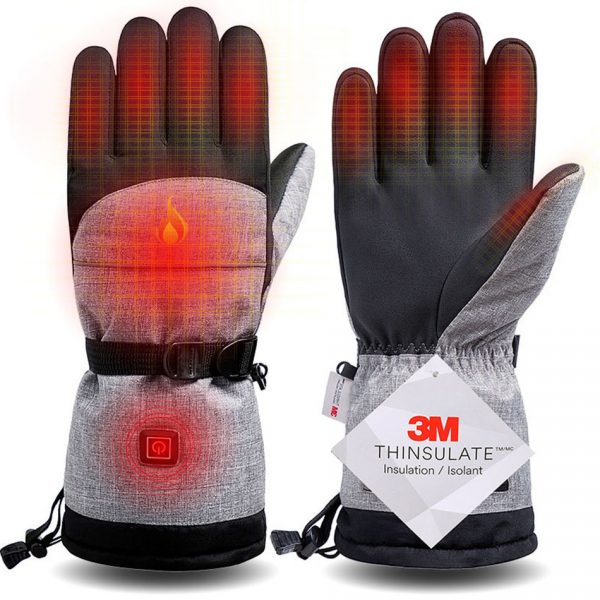 Got something extreme planned this winter season? Your hands are in good hands with these top-notch heated gloves from Cozimitt. This heated glove is perfect for all things winter adventures because of its 3M Thinsulate synthetic insulation. This feature effectively delivers warmth and traps heat for all-day comfort no matter how cold the environment is.
The Cozimitt also uses the upgraded far infrared fiber heating elements to produce 360° heating (from wrist to fingertips) to combat the frigid cold. And with its built-in 3-level heat adjustment, finding your preferred comfort level is possible. But here's the best part. The Cozimitt comes with 4 fabric linings for max comfort and ease. The outer layer is made of mesh, sponge, and C40 polyester, which effectively resist water, wind, and snow, while the interiors are waterproof casing, sprayed cotton, and TR cloth.
For those moments where you need to use your phone or other smart devices, the Cozimitt also comes with a touch sensor in the index finger and thumb for better control. You'll never have to compromise comfort ever again just to answer a quick phone call. Overall, the Cozimitt is a beast in its category. It packs all the right features and safety precautions for you to enjoy winter to the fullest.
Heated gloves are the latest and most effective way to keep your hands warm and toasty all winter long. It's safe, easy to use, and impressive in combating the frigid cold. But in choosing the PERFECT HEATED GLOVES, you must look for devices that deliver longer battery life, are made of top-notch materials, and fit your hands to the T so that you can get the best service possible. Nonetheless, the products we highlighted in this review have passed all our criteria.