Steer Clear of Thieves: An In-Depth Comparison of the 3 Best Steering Wheel Locks for Maximum Protection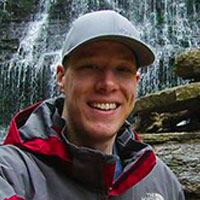 David Jones
Updated: Nov 22nd, 2023
Car thieves – not a lot of things can deter them. However, if they see that your car has some firm grip, and a solid steering wheel lock holding the wheel, they might get second thoughts. 
You always worry about your car safety and security, and you want to invest in a steering wheel lock but you wonder which one to get. 
We're talking about security here – it's best to go for the best, right? 
But with tons of steering wheel locks claiming they're the best, it's hard to find which ones are really worth the money. The good news is that we're here to help. 
We rounded up a team of security experts to help us come up with a list of steering wheel locks that can give your car the protection it deserves. 
How We Decided
After spending two weeks reviewing different steering wheel locks, our team of security experts were able to make a list of important factors to consider when buying locks for your steering wheels. 
The list includes: 
Complex locks that are hard to pick. 

Durable clamps and rods that hold the steering wheel in place. 

Compact, heavy-duty build that isn't vulnerable to cuts. 

With alarm features. 

Easy to set up design. 
Out of all the locks we reviewed, these are the three products that stood out.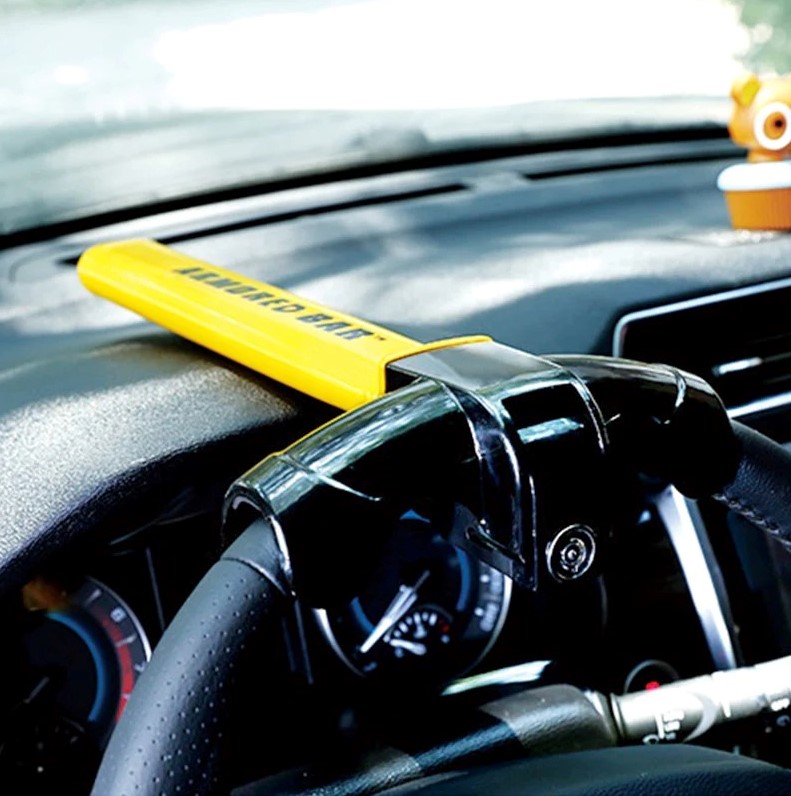 If you're looking for a solid build and a lock design that's complicated enough even to the most cunning thief, you will love SteerLock. 
This steering wheel lock comes with cylindrical locks with a complex configuration that makes it hard for car thieves to break the lock. 
The lock is made of hard steel with a compact composition that holds the steering wheel in place. Car thieves can twist and turn the steering wheel and it will still stay in place. 
The durable hard lock is also made with thick steel, making it difficult for thieves to cut the lock in an attempt to steal your car. 
We love how the SteerLock comes with a universal design — it caters to the steering wheel of trucks, sedans, SUVs, and even vintage cars. 
One of the best things about SteerLock is its easy-to-set-up design. You don't need any complicated maneuvers; simply attack the lock onto the wheel, secure the clasp and locks, and you're good to go. 
With keys, you can open the lock in just 5 seconds. 
The SteerLock comes with a bright yellow color to help deter the potential thieves.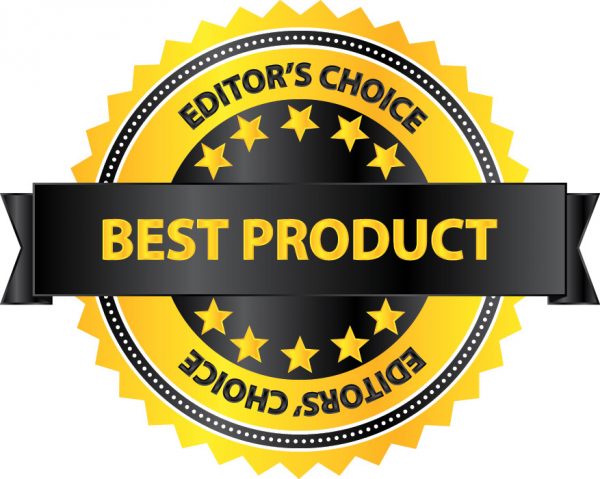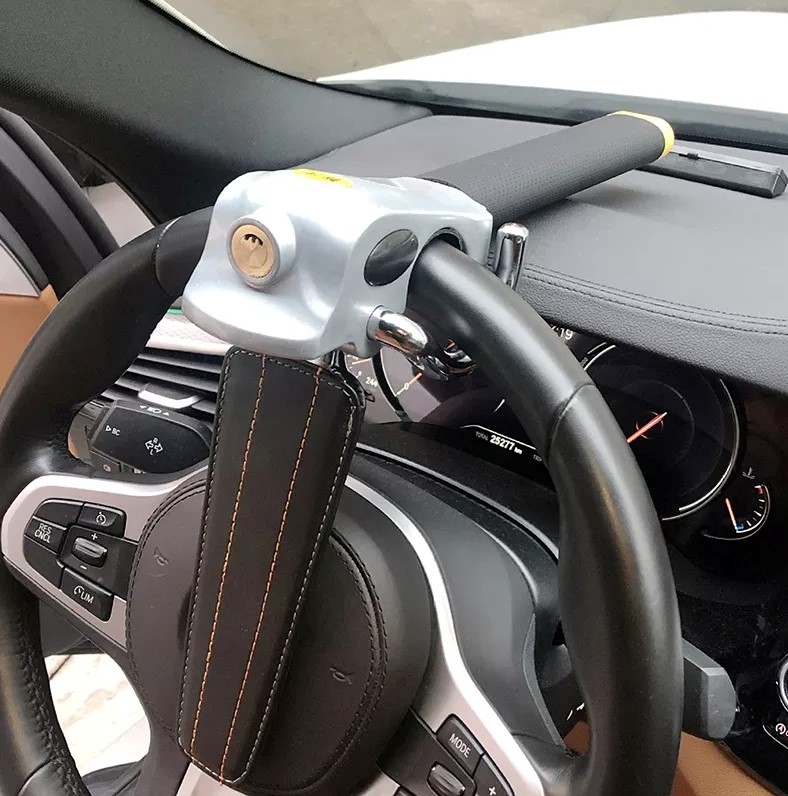 If you're looking for triple the protection, we recommend the TwizTect. 
Out of all the steering wheel locks we reviewed, we have agreed that the TwizTect tops our list when it comes to complex locks that are 100% break-in-proof from car thieves. 
Experts believe that if a thief plans to cut the lock, it will take them approximately 45 minutes to 1 hour before they can do it. 
The TwizTect is easy to set up. The lock itself follows the angling of the steering wheel making it convenient to attach the locks to the wheel. 
Thanks to its adjustable angle, the TwizTect is compatible with most steering wheels on the market.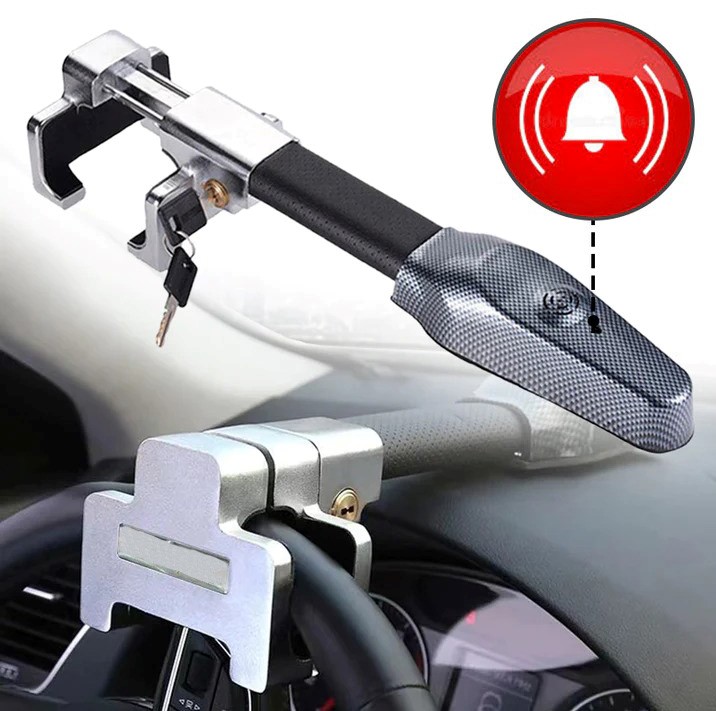 Durable, compact, and hard to break into pieces – the AutoXecure tops our list as the most solid steering wheel locks on the list. 
If you want a steering wheel lock that can stand sharp knives and saws used by thieves, the hardened steel of the AutoXecure will impress you. 
We love its unique hook – it comes with a hard-grip design that claws into the steering wheel tightly. But don't worry, the hooks don't come with sharp edges, so your steering wheel won't be prone to punctures or scratches. 
The clamp of the AutoXecure prevents the movement of the steering wheel. A bonus we really love is its alarm function. Once the lock senses sewing, yanking, and blunt hitting, it will sound a 130dB alarm for 25 seconds. 
Thanks to AutoXecure's solid, heavy-duty build, it can also be used as an emergency hammer! 
Multipurpose and guaranteed infallible, AutoXecure is worth the money.
Steering wheel locks can do wonders in the protection and security of your car. Just the sight of a steering wheel lock is enough to make car thieves spare your ride. Don't settle for just the ordinary locks – go for steering wheel protectors that can really give car thieves a hard time! 
Check out our recommendations above for expert-endorsed, tested, trusted steering wheel locks!