3 Best Bike Stands to Buy This 2022 For Convenient Parking and Repair at Home [GUIDE]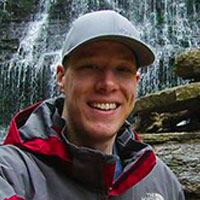 David Jones, Contributor
Updated: Apr 28th, 2022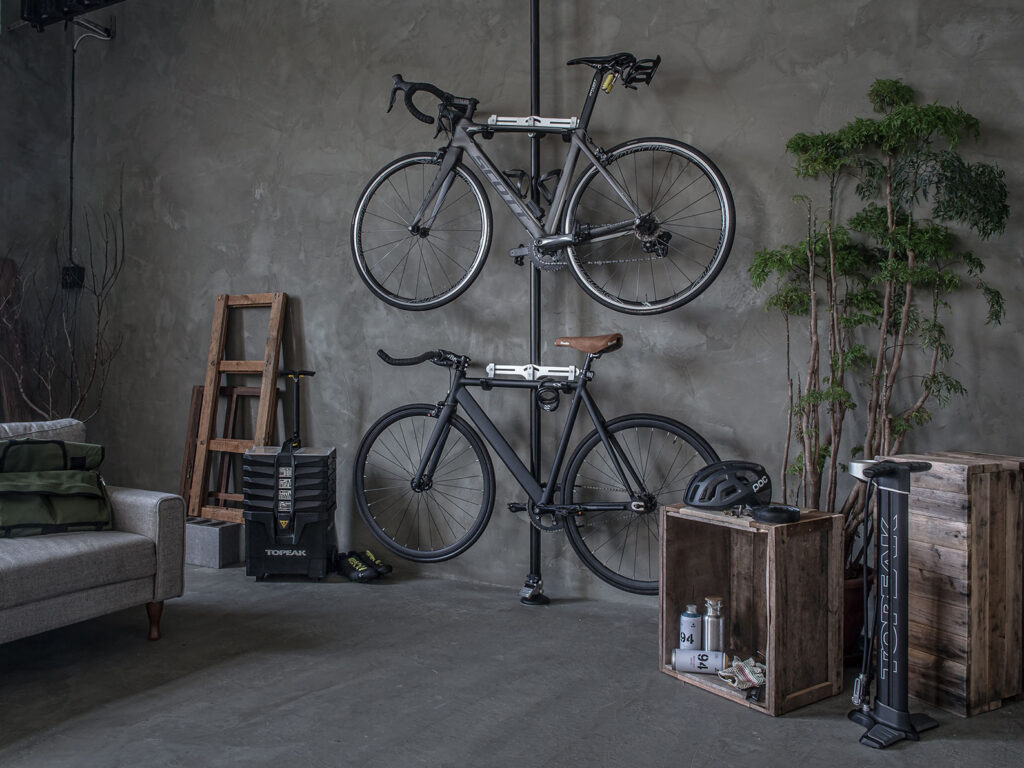 There are two kinds of bikes stand out in the market right now: one for storage and one for repair. And their purpose is pretty simple — keep your bike secured to prevent unwanted damages while parked or create a home-repair setup that makes fixing easy and efficient. So owning one is a game changer to ensure your bike's exterior and running condition stays pristine for a long time. 
However, with so many options available, it can be challenging to know which one to buy — even worst if you can't decide whether you'll opt for a repair stand or a parking one. So for this review, we highly recommend the Bike-First Elite Heavy-Duty Bike Stand because it tackles both worlds — it's both a storage stand and a repair stand. It's like hitting two birds with one stone, but if you're mainly looking for a stand for your outdoor bike space or something that fits your kid's bike, we've listed our favorites to help you find the perfect product for your needs.
So keep reading to find out more about these products.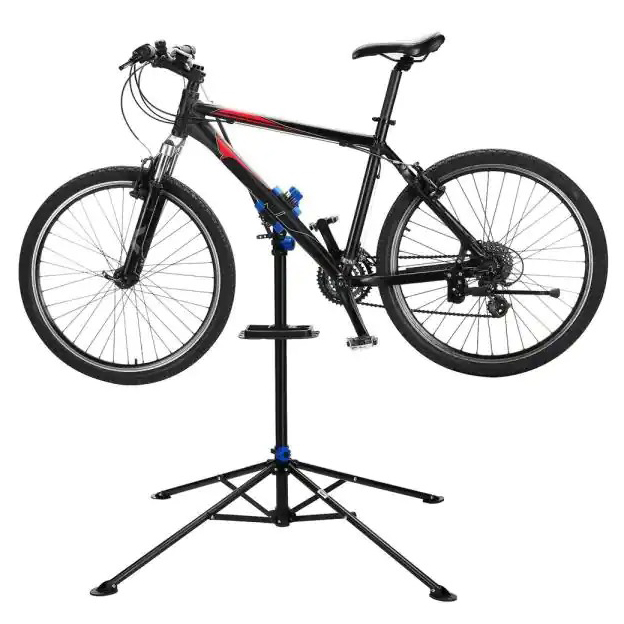 We like the Bike-First Elite Bike Stand because, as mentioned, it's both a stand for storage and repair. With this one, you're assured that your bike's in safe hands when not in use. Of course, its biggest asset isn't the storage functionality but the complete repair stand setup that makes home maintenance an easy experience.
The Bike-First Elite features a height-adjustable stand that rotates 360° to access all bike areas conveniently for a smooth repair sesh. It's made of the highest quality steel frames with thickened tubes and sturdy clamps to securely handle your bike without fear of tipping over while parked or for repair. And to make your home-repair experience even more convenient, it comes with a built-in tool tray to organize your tools so that you don't have to keep missing anything while you're at it.
For its height adjustments, you can go from 42 inches to 72 inches, depending on the size of your bike. Its work-horse clamps can even handle all types of frames that measure 1 inch to 1.8 inches. And you can access all of these with ease since it uses telescoping poles to adjust.
On the other hand, if you aim to use this as an indoor parking stand, it's also one of the best when it comes to stability. The Bike-First Elite is built with 4 stable folding legs that secure the stand stays in place. Moreover, the handlebar rod has an anti-rolling feature and footpads to stabilize the bike stand fully. And since it's also foldable and portable, you can take this bike stand anywhere to park your bike whenever you go for outdoor adventures safely.
Overall, the Bike-First Elite screams value for money to us. It comes with everything you need to ensure proper bike maintenance at home. And for $79.99, it's cheaper than most bike work stand on the market, so you get more than what you paid for!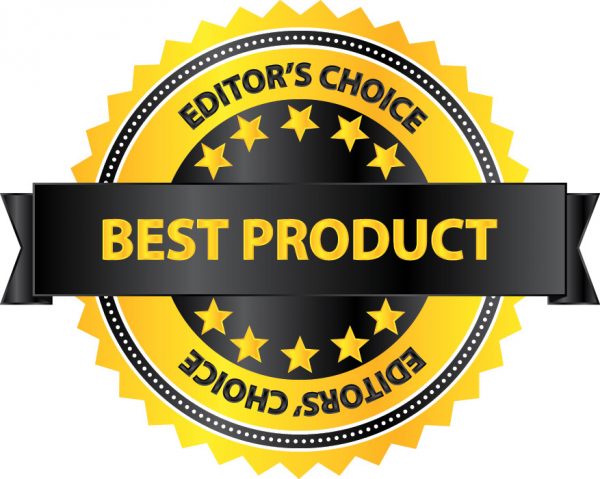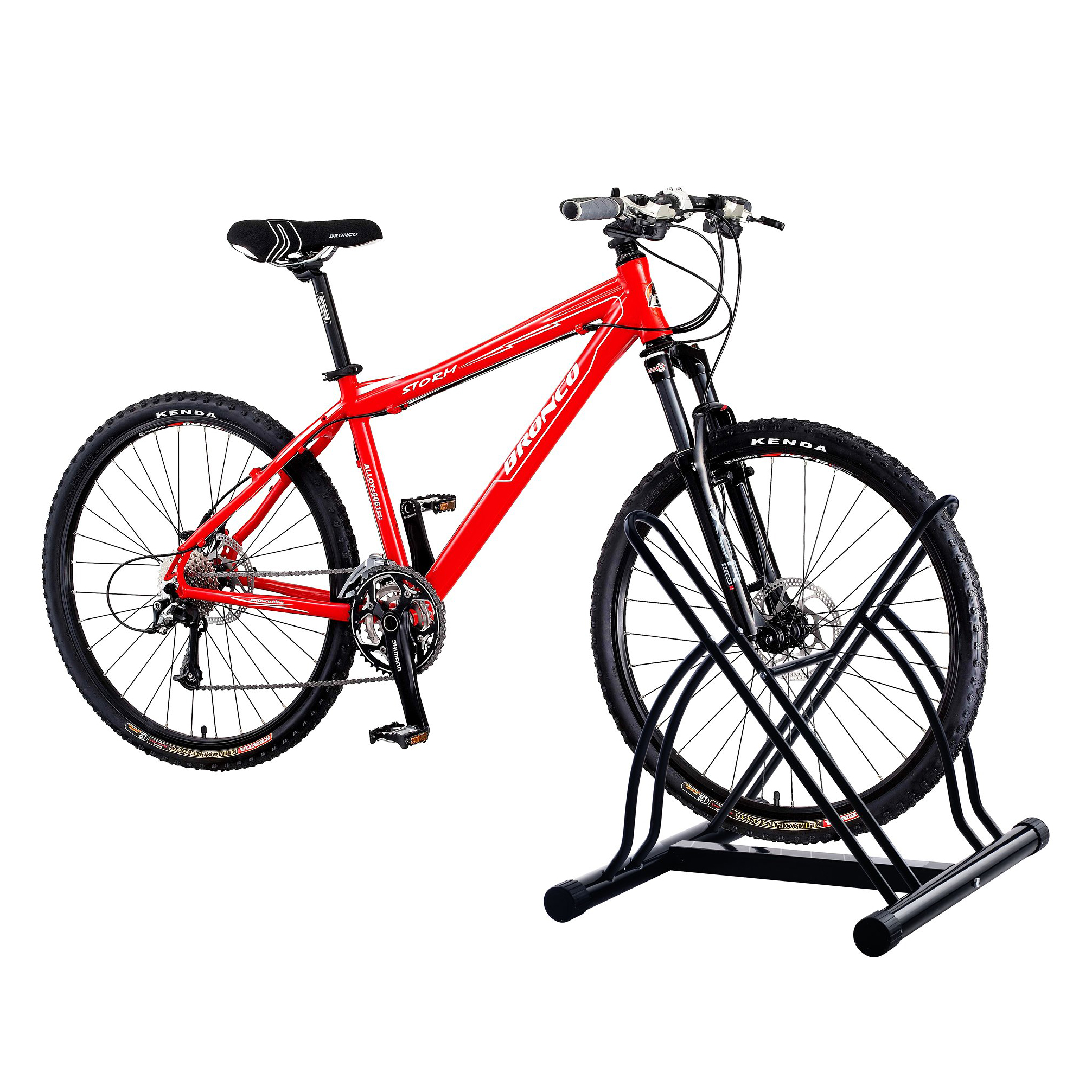 Now, for a standard bike stand that you can use either indoor or outdoor, we recommend the ARC-SWOOSH. This one helps you create the best space for your bikes at home regardless of whether you live in condos, apartments, or a house with minimal space to spare. What we like about the ARC-SWOOCH is its 3-point holding when securing your bike when parked. It can lock your bike either at the front tire, sides, or even underneath, which is 100% convenient!
When it comes to quality and stability, the ARC-SWOOSH is also one of the best in its category. It's made of heat-treated and high-quality steel with an epoxy finish to handle different bikes' varying weights. For its feet, it's made with PVC and protected by a pad to ensure no scratching on your floors and adds an extra layer of stability.
One of ARC-SWOOSH's features that most people like is its dual, mountable sides that you can set in the same or opposite directions. It means that you can park your bike facing the same direction or opposite to minimize space. Even better is that the ARC-SWOOSH can fit up to 26 inches tire size and width of 2.5 inches. So NO TIPPING OVER, SECURE BIKE STORAGE for all types of bikes.
The ARC-SWOOSH is ideal for bikers who need to work in a limited park space.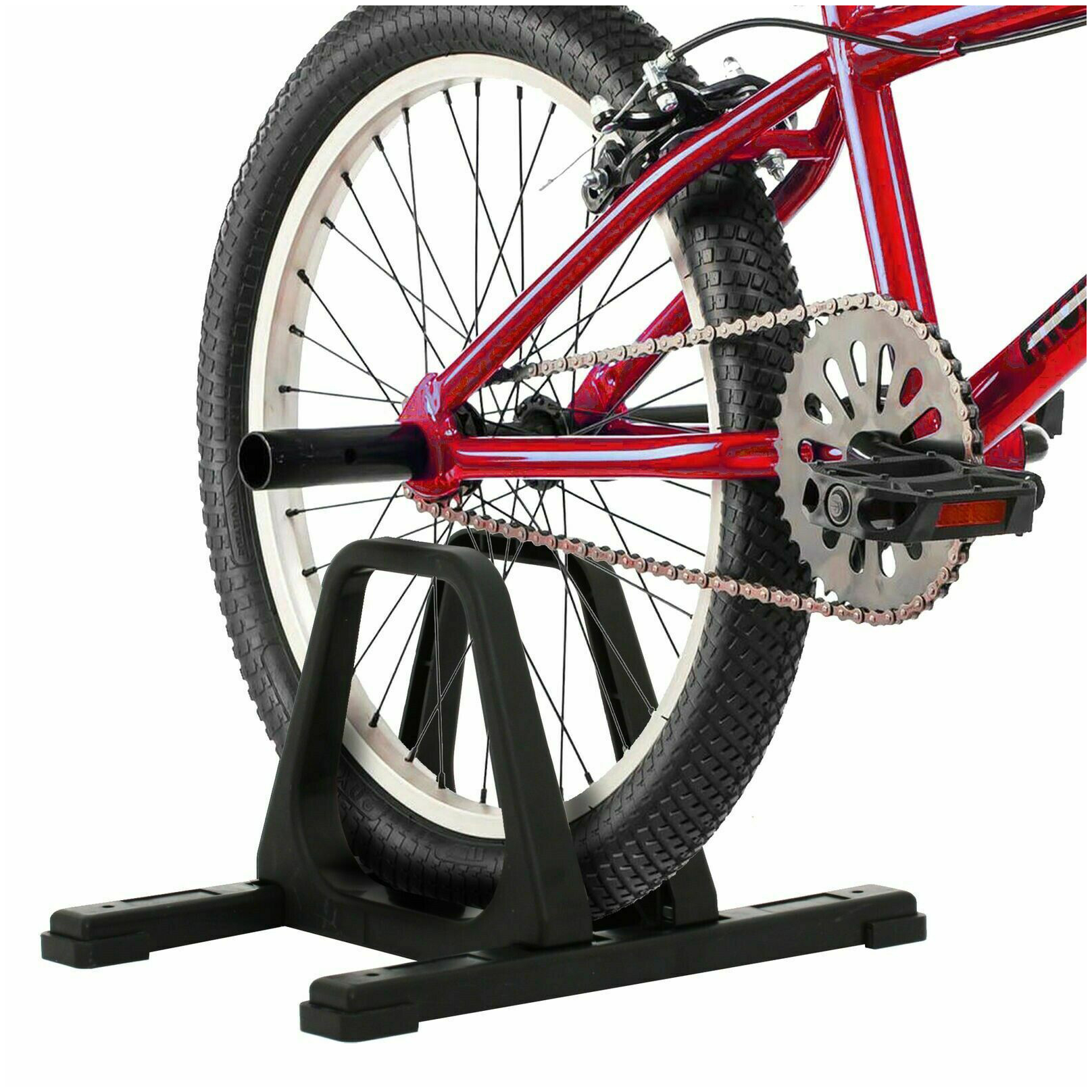 Although the WICKX-RACK markets itself as a bike stand for bikes for all ages, we see it as the best park stand for kid's bikes. The size and bearing capacity of the WICKX-RACK is suitable for kids that are often light and comes with more or less 3.5" tire width. Yes, it's perfect for smaller bikes that go about 20 inches like BMX, Woom 4, etc. So if you're an adult rocking one of these bikes, the WICKX-RACK is a match made in heaven.
What's we like about the WICKX-RACK aside from its sturdy and lightweight design — it's really made to last for a long time. It's heavy-duty and made with the best quality ABS plastic that can securely handle bikes parked in any direction. It won't tip over like those poor-quality stands, you see.
Bike stands are a great way to maintain your bike's good condition properly. It keeps them in place to avoid tipping over, which could cause damage to your bike's exterior. But, in choosing a bike stand that fits your needs, there are a few considerations you need to know to ensure you'll get the most out of your purchase.
Do you want a repair stand, a park stand, or both?
Deciding what stand to use depends on what you want to do. Do you want to have just a dedicated space to store your bike? Or, you want to have a setup that stores and handles repair. If still undecided, the Bike-First Elite is a perfect choice since it's a 2-in-1.
Stability is Key
You don't want an unstable bike stand. In the first place, you're avoiding unnecessary damages caused by unintentional tipping over. The keyword to look at here is the bearing capacity so that you can assure that the stand can handle your bike's weight. Also, multiple locking features like the ARC-SWOOSH offers can work to your advantage since you can easily park your bike in the best position that minimizes tipping.
Quality
Something made of stainless steel is the ideal bike stand since you want it to secure your bike efficiently. Also, go for stands with reinforced stability like anti-rolling features to ensure it stays in place all the time.
Conclusion
The products we highlighted in this review are the best options for specific needs. We've tested each product to ensure it's true to its claim and guarantee that it'll work to your advantage. So give them a try and enjoy our special offers if you order from our site.