Top 3 Best Tool Bags to Buy in 2022 for Better Tool Organization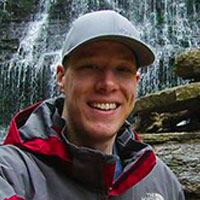 David Jones, Contributor
Updated: Jan 8th, 2022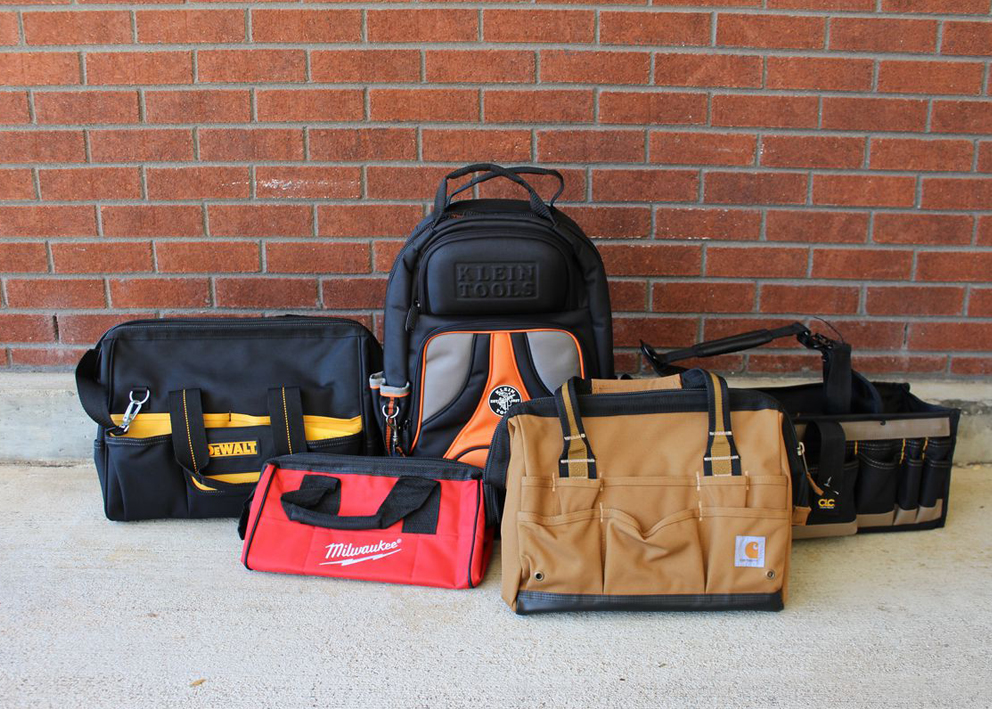 If you're someone who uses tools, you will know that sometimes, one tool is not enough. The love for tools continues, and you often find yourself collecting tools for different tasks. Although this is a harmless hobby, it comes with a consequence – tools that go all over the place. Sometimes, you can find yourself scrambling for your most needed tools, and spending several minutes just to find them.
If a disorganized tool bag is one of your concerns, you might be looking for an efficient tool bag – one with a design meant to give you a more organized tool bag you can bring wherever your projects may be. Are you wondering what tool bags to get in a market saturated by all sorts of designs? We're here for you. In this review, we're featuring the top 3 best tool bags to help you organize your tools efficiently.
How We Decided
Our team is composed of electricians, plumbers, and repairmen, so we understand the struggle of not having an organized tool bag. It's chaotic. It's also frustrating to spend several minutes finding the tools we need instead of focusing on the project at hand. With this reason, we decided to start our search for the best tool bags in the market.
Using our experience, and the recommendations of other repair service providers, we came up with this quick criteria in choosing the best tool bags.
Portability
If you are someone who is going to bring their tools with them to multiple locations, you're going to need a bag that's portable for travel. Consider the handles – are they ergonomic enough to save your hands from feeling strained from carrying all the tools? Choose a bag that does not come with "heavy" materials to ensure you it's easy to bring anywhere.
Waterproof Design
Tools are a big deal. You invest for them – it's just right that we get them the bag that will protect them from the corroding effects of rain and water. Choose a bag that has a waterproof material so even if you got rained on, or snow settled on your bag's surface, the last thing you'd have to worry about would be tools losing their quality.
Slots and Compartments
Last – but surely – not the least, slots and compartments. We love bags with multiple slots and compartments so we can have enough space for all sorts of tools we have. Consider the amount, and the kind of tools you have and determine the kinds of slots and compartments that will be compatible for your types of tools.
Out of all the tools bags we reviewed, here are the top 3 tool bags that we highly recommend.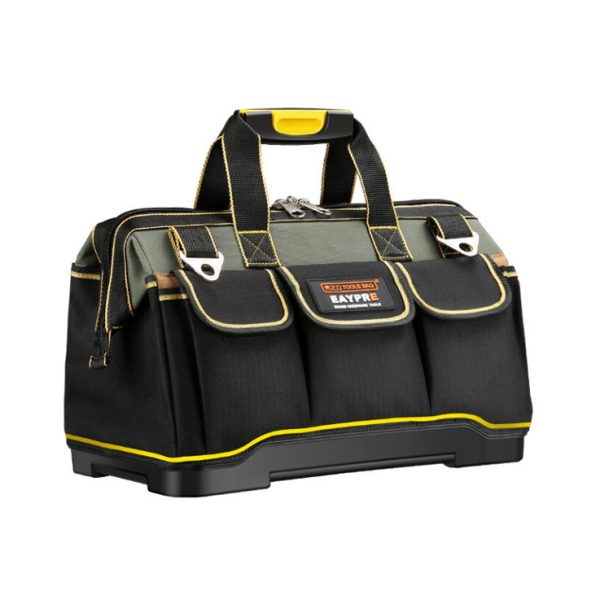 Whether we like it or not, we will be carrying our bags loaded with tools when a project calls for it. When the project needs more tools, we have to bear the strain of carrying tools for long distances. If you are over feeling exhausted with your classic tool bag, maybe it's time to make a switch to a more portable option – the Traption 2022.
The first reason that we love this bag – its portability. Not only is the bag made with lightweight but heavy duty material – it actually makes carrying tools from one place to another a lot easier. The bag comes with surface wheels that allow you to let it roll on the ground when you're already exhausted from working the whole day. No more painful shoulders and arms!
We also love how the Traption is waterproof. The bag is made with IPX4 Oxford material to ease your mind should your tool bag get rained on or wet. The tool bag also includes a durable Oxford interior that gives the bag the durability and strength to withstand damages from the tools inside.
The bag is made to withstand heavy loads. The last thing you have to worry about would be broken straps. The tools stay secured inside – thanks to a ring slot meant for locks.
If you're looking for a tool bag that will save you from exhaustion, the Traption will be a great pick.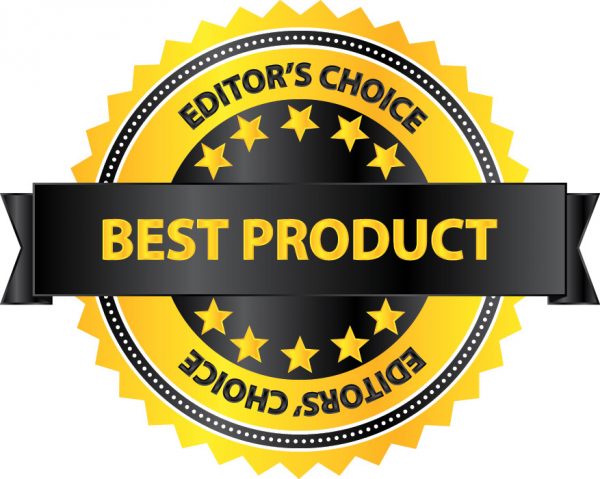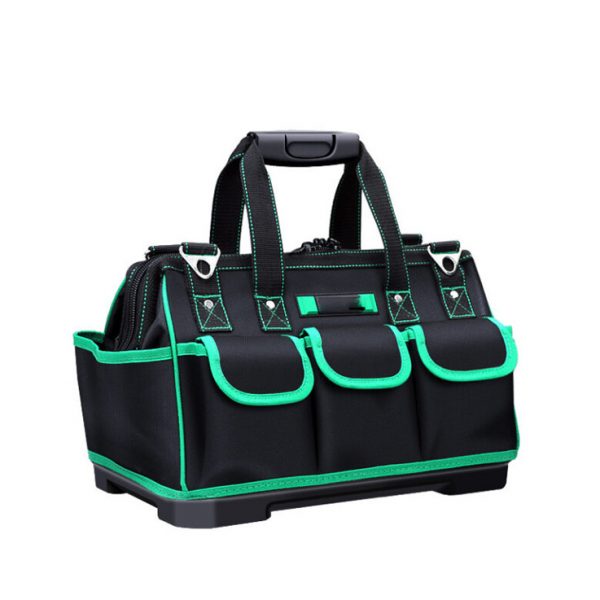 We asked electricians, plumbers, and repairmen to pick out three characteristics of a tool bag that they consider most important. They named durability, comfort, and accessibility as the top 3 factors – factors that are all present in the CareAid tool bag.
CareAid is designed to last. It is made with ballistic poly fabric that is 10x better than traditional bag fabrics. This means that the bag can endure scratches, punctures, and harsh impacts! You can be assured that this bag – which can be a major investment – can last for a long, long time!
The bag comes with padded shoulders and palm straps to help you carry the bag without worrying about feeling all kinds of pains on your palms and shoulders. If you need assistance, the bag allows both hand-carrying, and shoulder-carrying to be done simultaneously.
CareAid also comes with a solid base. This solid base coupled with a wide opening, and efficient slots for tool-keeping makes it easy for you to access your most-needed tools without having to experience endless finding, scratching arms and fingers, and wasting minutes meant for your projects.
If you are looking for a tool bag that has it all, go for the CareAid.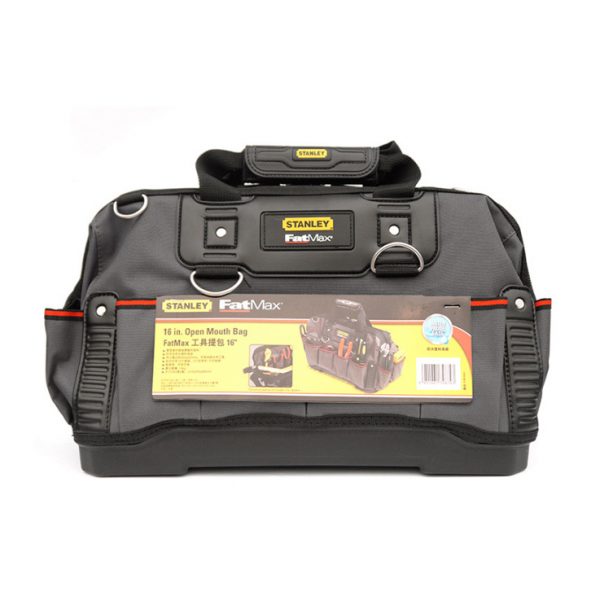 Isn't it frustrating when the bag you're using for your tools keeps falling down? Isn't it a little difficult when you have to keep your bags organized but it still gets messed up? In our review, we determined that for these concerns, the best bag is the Mecha!
Mecha opens wide. The bag has a 16-inch opening which gives you easy access to the tools inside. You can easily see and find your much-needed tools in just a few seconds. The Mecha also comes with a sturdy plastic base that will ensure that your tool bag stays up – no need to deal with bags that seem to just fall off when you need it to stand still.
The base of the Mecha is elevated – a feature that makes placing them in damp and dirty surfaces possible. You won't have to worry about your tools getting wet and dirty anymore.
Organizing your most essential tools is easy with Mecha. The bag features 14 compartments with different sizes – you'll have enough slots for all kinds of tools and supply.
Carrying the Mecha is a breeze – thanks to its rubber-padded handles and shoulder straps. The rubber significantly lowers the strain on your palms, fingers, and shoulders so you can travel with your most important tools with ease.
If you're a repair man, plumber, or electrician on the go, the Mecha tool bag is one of the best tool bags to get!
A tool bag can save you from losing your most important tools. When you have great tool bags, you can confidently go to a project without worrying about missing the tools you need for an excellent work performance. Finding the best tool bags isn't easy, but we'd like to assure you that each product featured here is personally tested, tried, and reviewed to make sure we only offer products that deliver quality benefits.