These 5 Best Beach Tents Will Surely Make Your Beach Outing A Good One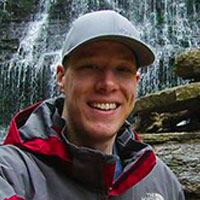 David Jones, Contributor
Updated: Apr 2nd, 2022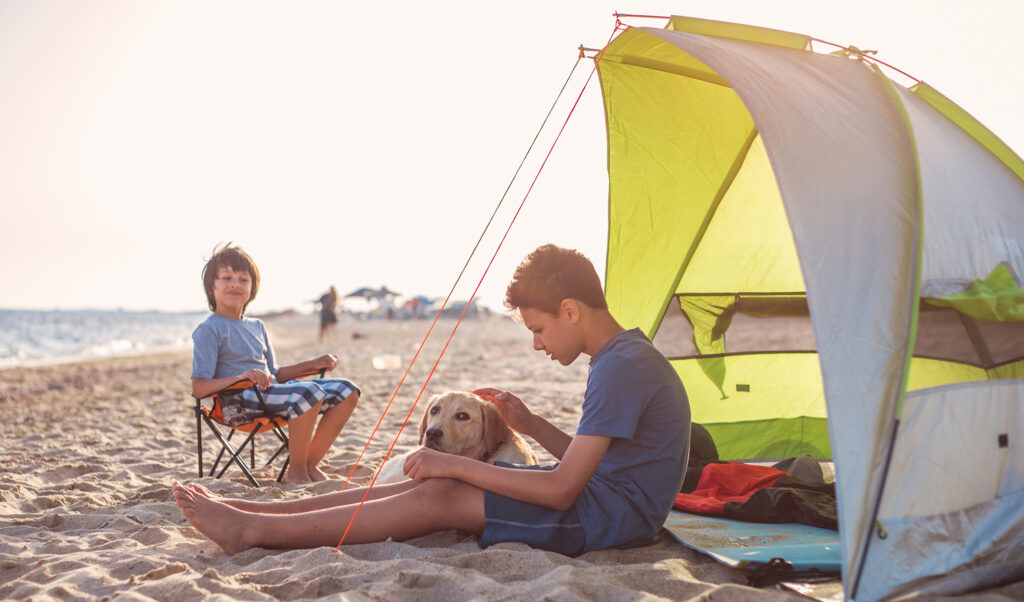 Real talk? Your sunscreen isn't enough to protect you from the sun's harmful rays. Beach towels and chairs are fun just for a while too, but if you're really looking to make the best out of your beach trip, you need a much better shelter/protection than these. 
Enter beach tents—a lightweight, portable, and easy to install tent that offers maximum protection against the sun's UV rays so that you can maximize your day at the beach. Not only do these items shelter you from the sun's draining and potentially harmful rays, but they also create a cozy and comfortable space to lounge at the beach. Whether you wish to catch some Zs, unwind, or have the best time with your family and friends, beach tents are a great companion.
So if you want to upgrade your beach essentials for your upcoming beach outing plans, we got 5 products we highly recommend you to choose from. We've quality and value-checked each product so that you'll have the easiest decision to make.
Read along.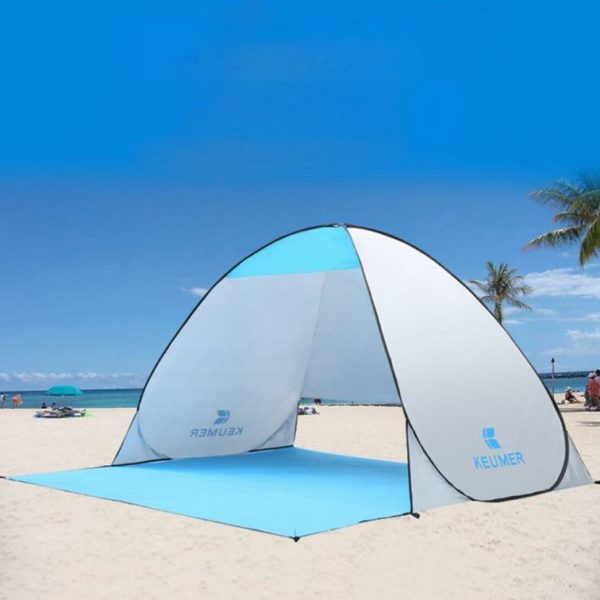 If you're looking for a nice beach tent that is easy to carry, extremely quick to set up and offers the best kind of protection under the sun, the TentoPop is a perfect choice. 
Three things that make TentoPop a breath of convenience are its lightweight, easy-to-construct system, and oxford double-binding fabric design. All of these features ensure that you'll never have to spend too much effort pitching the tent. In fact, you can set this up in just under 10 minutes. And to make moments even better at the beach, it comes with advanced UV protection that shelters you from the sun's harmful rays while keeping you cool and cozy inside—thanks to its 210D oxford and breathable anti-UV fabric.
All in all, the TentoPop is a quick beach setup that offers excellent convenience.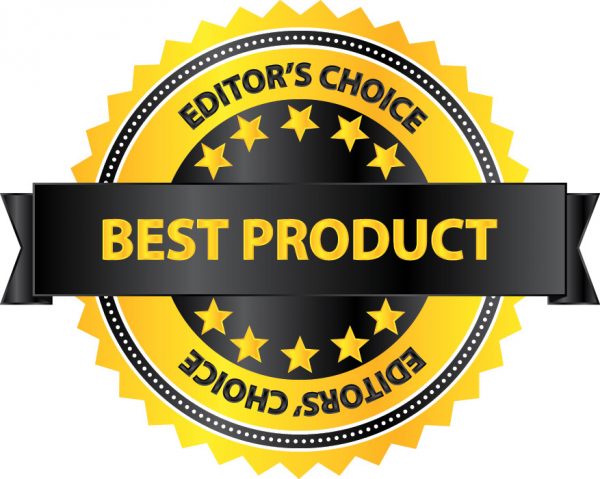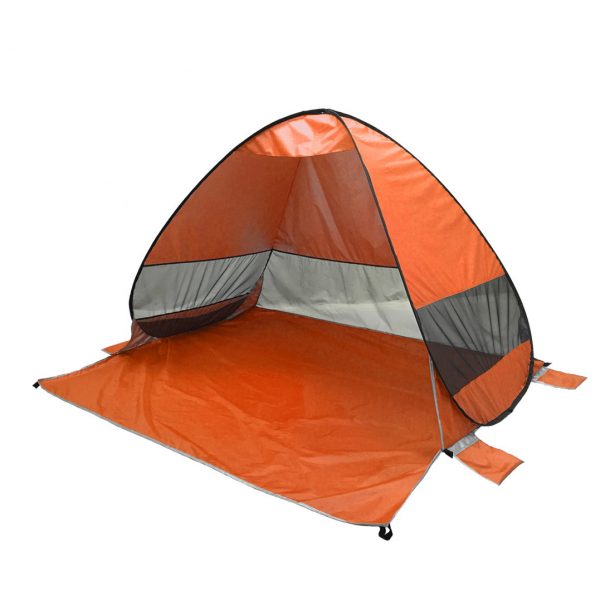 For an all-inclusive pop-up shade at the beach, the SunBevy is our absolute favorite. This tent features a lightspeed folding hub technology and top-notch 190T silver-coated polyester fabric with UV coatings that make spending time at the beach peaceful, relaxing, and well-protected. It's the PERFECT family beach tent to bring. Not only does it fit 3 to 4 person inside but also provide the most comfortable ventilation and air circulation, so it doesn't feel suffocating once you decide to catch some Zs inside. There are internal pockets included, too, to avoid cluttering and ensure you got the best time out on the beach. And with its 8.5mm fiberglass poles, pegs, and fixing holes, the SunBevy offers the most sturdy and durable tents out of the bunch. In other words, you'll never go wrong if you choose to upgrade your beach essentials with this awesome beach tent.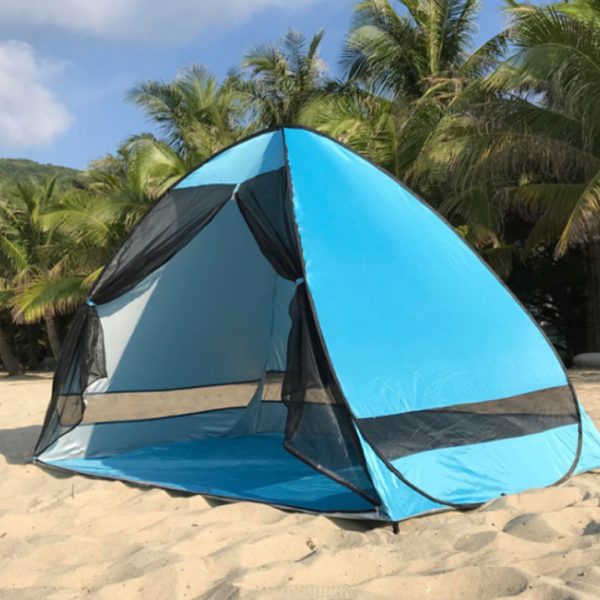 For the perfect all-rounder, the search is over as the ExploRight Beach Tent is here to provide you with all-around protection at the beach. This automatic, self-folding beach tent comes with a top-notch, UPF 50+ UV protection, a built-in mosquito net, and a mat for that safe and relaxing beach outing.
What we love about ExploRight are its lightweight and highly portable design. Here's the thing: not all beach tents are made to be easily transported. Some require a whole lot of complicated installation steps, but the ExploRight doesn't. In fact, you pitch and fold down this tent in just seconds, then carry it with you in circular packaging. This "accessibility" is possible due to the tent's dense type of polyester, nylon fabric that makes it incredibly easy to pitch and fold down.
Overall, the ExploRight is your go-to beach tent for whatever weekend getaway you planned to go. It's easy to carry, pitch, store, and gives you adequate protection anywhere.
Instagram-worthy tents? The TintOasis Beach Tent is an absolute beauty out of all the products we've tried. Inspired by the unique tent designs in the oasis, the TintOasis brings a new kind of experience to your beach outing, making it the ideal pop-up tent.
This beach tent uses a mechanical support mechanism that employs a stateless anchor to deliver excellent sturdiness that can withstand strong winds, rain, and other environmental factors. Its fabric provides up to 98% protection against UVA and UVB rays. Of course, such a design makes the TintOasis quick and easy to set up. All it takes is to fill the sandbags with sand, connect the poles, and enjoy.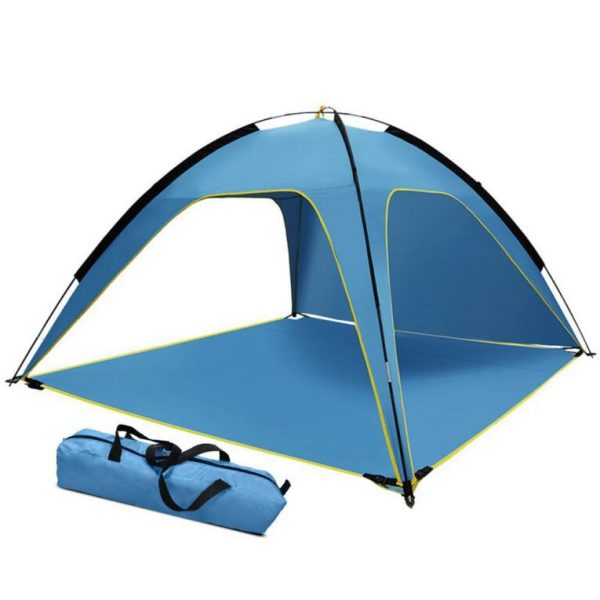 The Tentopolis is a lovely shade that could turn your beach outing from okay to something unforgettable. And for our experts and us, it's the PERFECT beach tent to lounge, play with your kids on the sand, and sight-seeing. 
This beach tent comes with three openings and a wide field of vision to provide excellent air circulation, making it suitable for all activities you wish to do at the beach. Its UV protection is also top-notch—thanks to its 190T Oxford fabric, coated with silver UPF 50+ protection that blocks 97.5% of harmful UV rays.
When it comes to sturdiness, the Tentopolis is also a top contender. It uses two fiber rods, fixed with four-corner nails to ensure that the tent is durable enough to withstand strong winds and rains. What's more impressive? All of these fantastic features can be pitched down into a small, easy-to-carry pack so that you can bring it to as many locations as you please.
Beach Tents are great investments to add to your beach essentials. They keep you cool, calm and protected under the scorching heat of the sun so that you can maximize every second of your time outdoors. Choosing the best beach tent all boils down to knowing what you fancy the most: are you looking for beach tents with open windows so that you can enjoy the refreshing wind at the beach? Or, are you looking for an instant, pop-up tent that you can carry around island hopping? Nonetheless, our top picks focus on "accessibility" regardless of your plan or the situation of the environment you're going. Out of the 30 products we tried, these 5 are absolute standouts!