3 Best Camping Toilets to Relieve Yourself Outdoors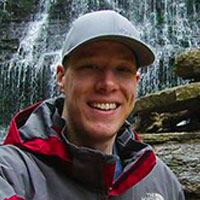 David Jones, Contributor
Updated: Feb 8th, 2022
The last thing you want is to cut short your camping day because of the lack of facilities to have your number twos comfortably. Or, maybe, scouring the depths of the location to find a suitable place to relieve yourself. Not only does it sound like such a hassle, but it could also be unsanitary for you.
Camping Toilets solve much of these discomforts by providing your personal space outdoors. They are designed around mobility and portability to make potty breaks easy and comfortable for anyone engaging in outdoor recreational activities. Most porta-potties even come with "personal" toilet features to make yourself feel at home while you use them.
So to make your outdoor experience worthwhile, we have created this list of the Best Camping Toilets for 2022. Our experts centered their reviews on convenience and value so that you'll have the easiest decision to make.
Without further ado, here are our top 3 picks for Best Camping Toilets.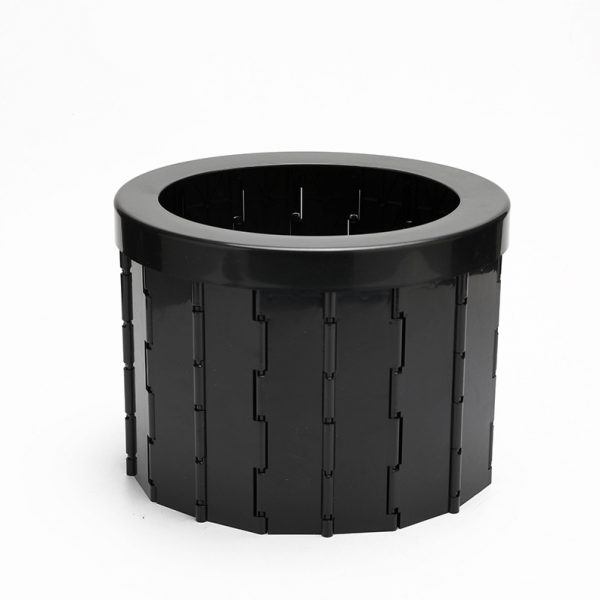 If your outdoor adventure requires you to switch locations most of the time, your camping toilet MUST be incredibly portable as well. This CampQuisitive Portable Camping Toilet is the perfect solution so that you can have a comfortable potty break wherever you may go. 
What makes the CampQuisitive such a movable piece of equipment is its foldable design. Although it already weighs significantly light, around 2.2 lbs/1kg, it's even lighter once you fold it down (2.4-inch thick), making it easier for you to switch locations anytime. With such a design, you may think it won't serve you as good as those heavy-duty portable potty, but no. The CampQuisitive Camping Toilet can hold up to 440 lbs of weight, which is impressive considering its size.
Furthermore, this camping toilet also comes in a multifunctional design. It can work as a stool, a beer bucket, and even a vomiting bucket for pregnant travelers. Its simplistic yet incredibly durable and portable design makes this camping toilet from CampQuisitive a perfect addition to your camping essentials.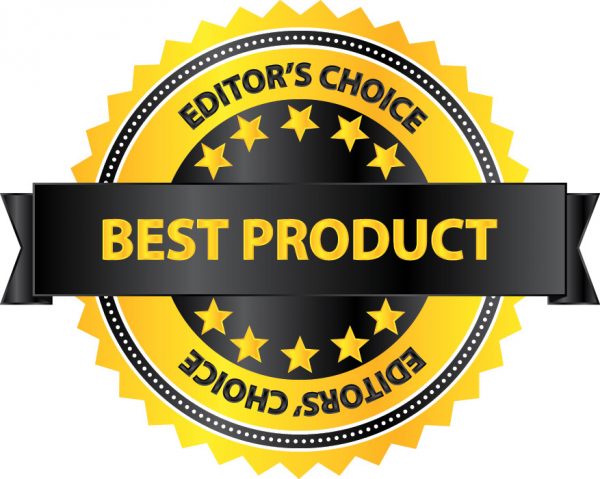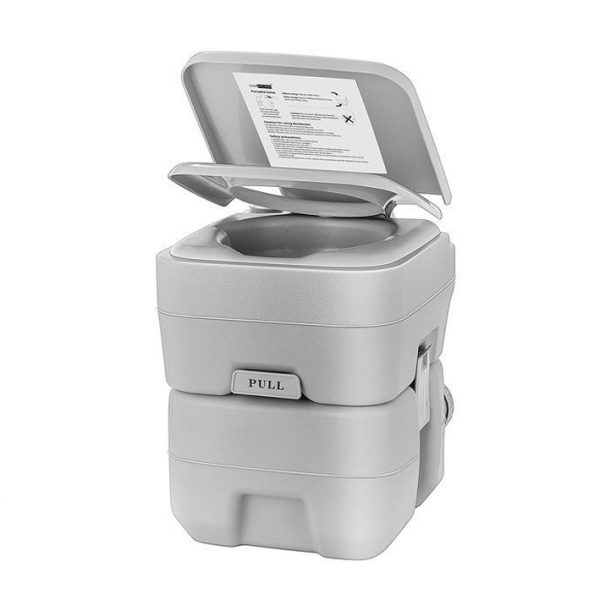 The OutPotty is one of those porta-potties that stand true to its claims. Yes, you can absolutely take it anywhere. It comes with two types of storage: a 5.3-gallons sewage capacity and a 2.5-gallon of fresh water capacity, which, overall, can hold up to 200 lbs of weight and up to 40 flashes. And just by looking at these tank capacities, you'll know that you're well-supported outdoors.
That's not all. The OutPotty also comes with unique and personal features that make potty breaks outdoors a breeze. First on the list is its good sealing effect that prevents water flow from damaging the RV's, tent's, and other outdoor facilities' interior. Next, it is made of HDPE plastic, which is durable, environment-friendly, and long-lasting. This design also contributes to eliminating odor and resisting low temperatures and corrosion wherever you go.
What we love the most with the OutPotty is its full-sized seat and lid that just feel perfect once you sit on the throne. It even features a triple o-ring to make it suitable for everyone's varying needs. We can't get enough of this camping toilet. It's easy to carry, comes with recommended features, and is made of high-quality materials. That's why we named the OutPotty our #1 Most Recommended Camping Toilet for 2022.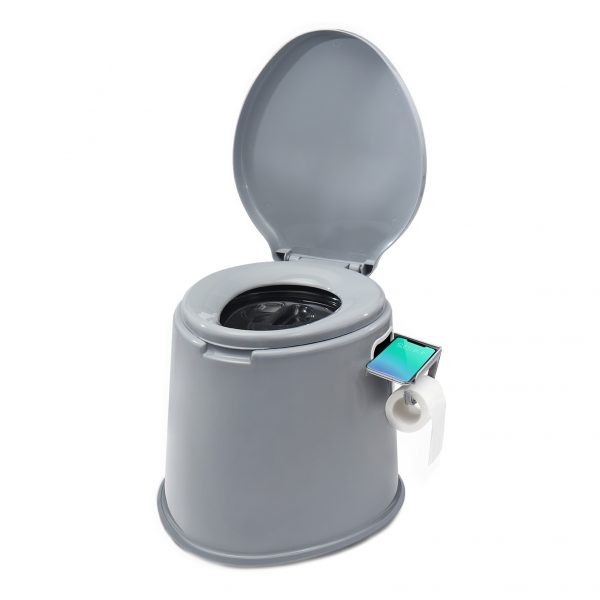 This camping toilet is, by far, the best one in terms of comfort and convenience. The MeloCamp portable camping toilet turns any outdoor space into a nice, comfortable, and sanitary place for you to do your potty business. It's easy to carry, two handles design makes it incredibly portable, and its personal toilet features are just one of the best.
And here's why:
Starting with its design, the MeloCamp comes with 2 kinds of buckets that support different use requirements. The normal bucket works perfectly for indoor or camping use, while the no-bottom bucket can be used on squat or outdoor toilet facilities for better convenience. And if you use the MeloCamp as your camping toilet, it has a load-bearing capacity of 220 lbs, and its inner bucket holds up to 5kg, meaning you don't have to worry about cleaning it every time you finished using it.
The MeloCamp also offers two add-ons we don't commonly see on portable toilets: the tissue and phone holder. If you're someone who loves to take your time on the toilet and check your social media, you'll find these features handy.
And ultimately, the MeloCamp is built to last many travels with you. The materials used in its construction are top-notch, combining lightweight and portability all-in-one.
Porta-potties or camping toilets are an excellent investment to add to your camping essentials. Well, that's because no matter how much preparation you've done, you'll eventually need to go to the toilet to relieve yourself. So to make your camping experience worthwhile, safe, and sanitary, getting yourself a camping toilet ahead of your planned trip will surely guarantee the best experience. 
Our top picks for Best Camping Toilets for 2022 cover most of the travelers' concerns. These products will surely deliver the most comfortable and sanitary potty breaks you'll ever have outdoors, from weight to portability to convenience to additional features.