Outdoor Camping Light:Best 5 Camping Lanterns To Buy in 2022 For Outdoor Adventures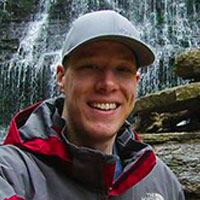 David Jones, Contributor
Updated: Mar 8th, 2022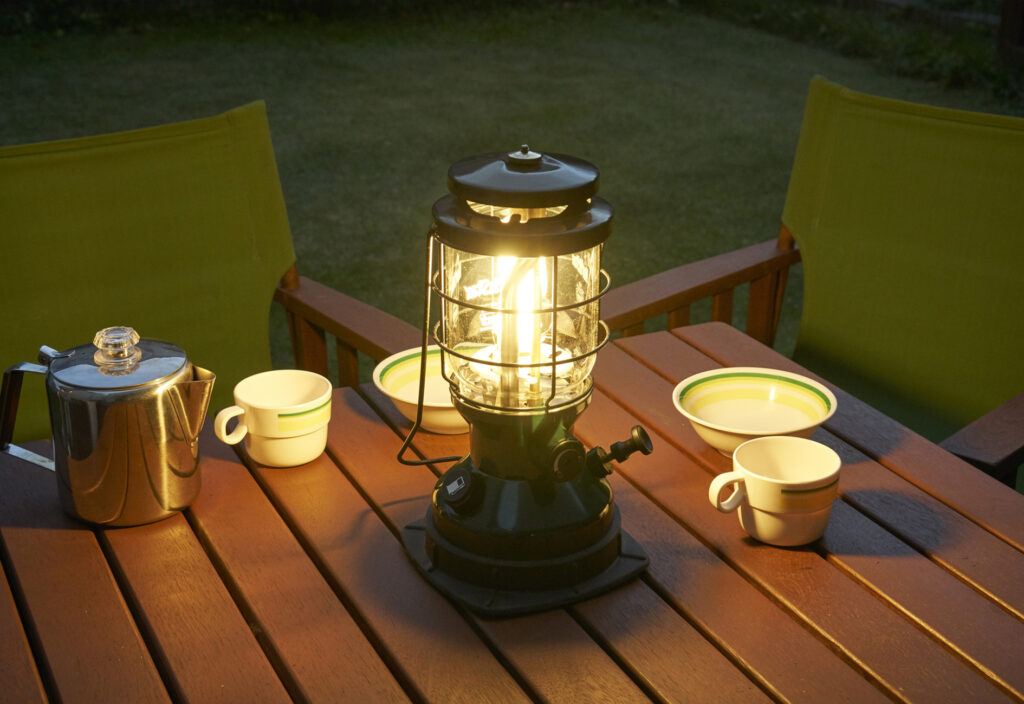 The best camping lanterns can benefit the camper in so many ways. It can illuminate a light-deprived location, help the camper feel safe, and ward off animals that may cause harm. Camping lanterns should not just offer just enough light – it should illu-mi-nate!
If you're a camper, you may have encountered camping lights that don't really deliver – they may just be poor in quality, or unreliable when it comes to battery life. Once the flicker turns off, and you're left in the dark, you're pretty much compromising your comfort and sense of safety. If you're done with camping lanterns that don't deliver in the illumination department, we got you! In this review, we're featuring five highly-recommended lights that can take on any outdoor adventure.
How We Decided
The market is saturated with all sorts of camping lanterns ranging from the flashiest to the ones that last the longest. But when it comes to choosing lanterns for camping, we can't settle for just "the okay" type of lanterns. As campers ourselves, we understand how important it is to find the best lanterns for safety and for better illumination while we're out in the great outdoors.
To help other campers and outdoor enthusiasts find the best camping lanterns for outdoor explorations, we asked camping experts, tech geeks, and outdoor enthusiasts to assist us in narrowing down our choices.
Here's a quick criteria we used to determine the best camping lanterns to buy in 2022.
Lumens
The camping lantern of your choice should have enough luminosity to allow you to see within the most crucial areas of your camp. The lumens should be between 500 to 900 to ensure that you enjoy a well-lit area while you camp.
Battery Life
Nothing is more frustrating than losing light while you're dealing with a dark camping area. You can't compromise safety especially at a time when you need to have better visibility. Find a camping lantern that has a battery guaranteed to last for a long time.
Waterproof Feature
If you're camping and you're prone to getting yourself wet, it's important to choose a camping lantern that is waterproof. Find lanterns with IPX4 Waterproof certifications so you can be ensured that your lantern won't give up on you.
Portability
If your lantern feels heavy, you might get tempted to leave it because it's too much of a hassle to carry around. Get the best of both worlds – comfort and function – by opting for a lightweight, portable lamp.
Out of all the products we have reviewed, these are the top products that stood out.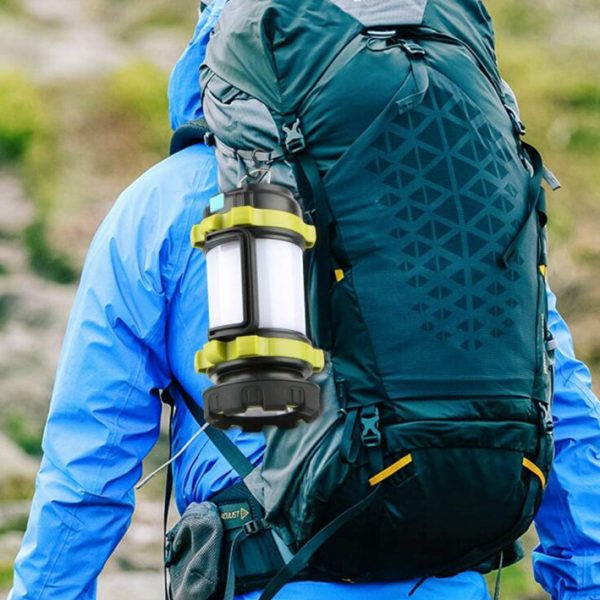 You know what gets in the way of an amazing camping experience? It is when you can't help but be very worried your lantern will give up on you. Since camping requires extreme durability from both campers and their essentials, it's just right to have ProCamper in your list of must-haves.
Why do we love ProCamper? First of all, this lamp is multipurpose. You can bring it to your camping tours, and you can also use it on daily activities, and emergency situations.
The ProCamper is designed to be ultra-durable. The design includes a protective PVC material that protects the light from bumps, and damaging impacts. It is also covered with IPX6 waterproof material that ensures your lantern works just as well even if it gets wet, or if it got rained on.
You can use the ProCamper in six different ways – for biking, reading, hunting, setting up your camping area, as a flashlight, and as a tool to ward off potentially harmful animals.
The lantern comes with a USB-charging feature. When fully charged, the lamp can last up to 10 hours. The hook attached to the lantern makes it possible to place the camping light anywhere.
This camping lantern can also double as a charger for your mobile devices. We recommend this if you're looking for both lighting equipment, and a multipurpose tool for all your emergency needs while you're outdoors.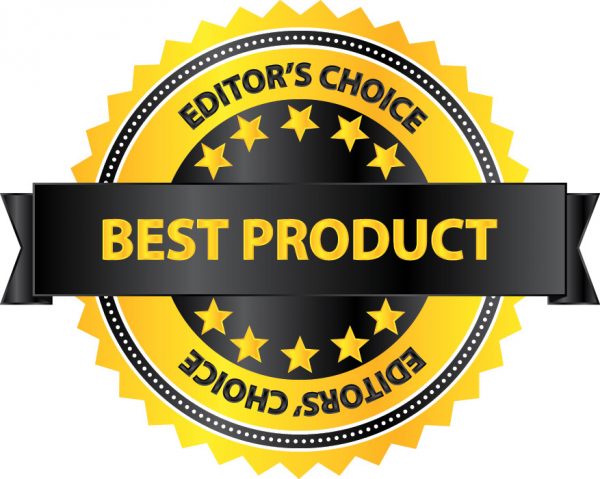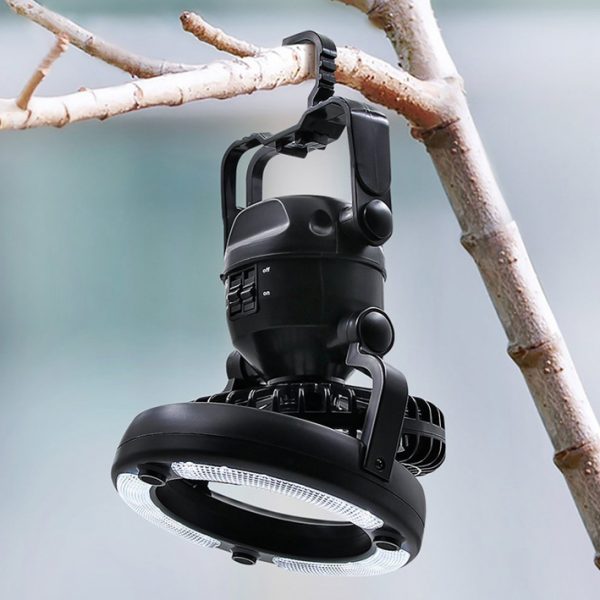 Are you the type to bring a favorite book to the camping area? Do you believe that the relaxing vibe that camping brings offers the perfect atmosphere for reading? If you don't want to miss pages of your favorite book even while you're outdoors, the OdyHill portable camping lantern is the top pick.
OdyHill is a lantern of top quality. This camping light can provide 1000 lumens enough to surround a 5 meter radius. This provides excellent lighting when you need to cook food, build a fire, set up a tent, or get better visibility of your surroundings.
The OdyHill comes with a hook attachment so you can easily install the lantern in your tent, hammocks, and camping cars. This impressive lantern also includes a fan to give you just enough breeze to keep you comfortable outdoors.
We are impressed at OdyHill's longevity. When fully charged, the lantern can last up to 16 hours of providing quality LED light. The 2D cell battery also allows the fan to work up to 30 hours!
If you're looking for lighting equipment for your camping adventures, you should not miss taking a look at the OdyHill!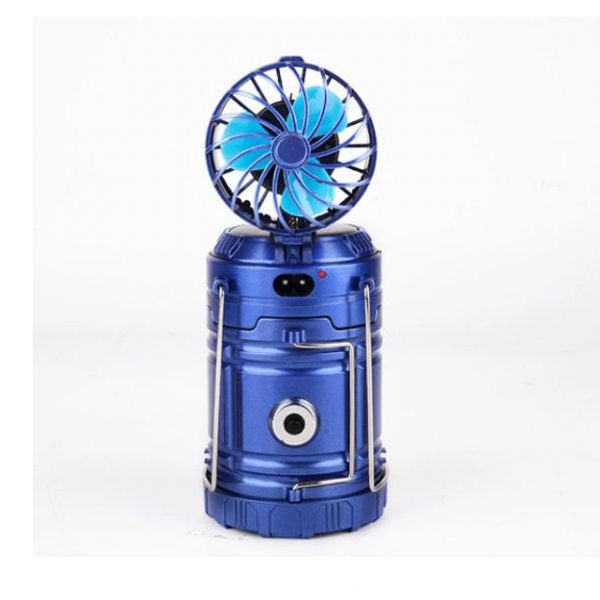 We know there are camping lights that feel like they're solely for camping. If you're not a fan of that, and you want to get value for your money, we got you. We feel you, and we understand. This is why when we reviewed camping lanterns, we thoroughly looked for visibility, and we found it in the CampEasy solar camping lantern.
The CampEasy can be used in 6 different ways. Yes, even after your camping trip is over, you can still make use of this highly-durable lantern. You can use it for your nighttime roving trips, if you need to find something in your backyard, as a safety light, or as an emergency light!
We love how CampEasy is solar-chargeable. Just by using Mr. Sun, you can get a total of 8 hours of bright light.
The CampEasy is retractable – a feature which comes in use when you need to attach the lantern onto different pillars. With its full-on, retracted mode, you can light up an area within a 4-meter radius.
This outdoor camping lantern has 2 modes of light: white light and warm light. The white light is perfect for lighting up your surroundings, while the warm light option can help you relax and cool down after a long day of trekking and hiking.
For good measure, the designers also provided a fan to help deliver convenience to campers and outdoor adventurers.
Truly, a camping lantern that's worth the investment!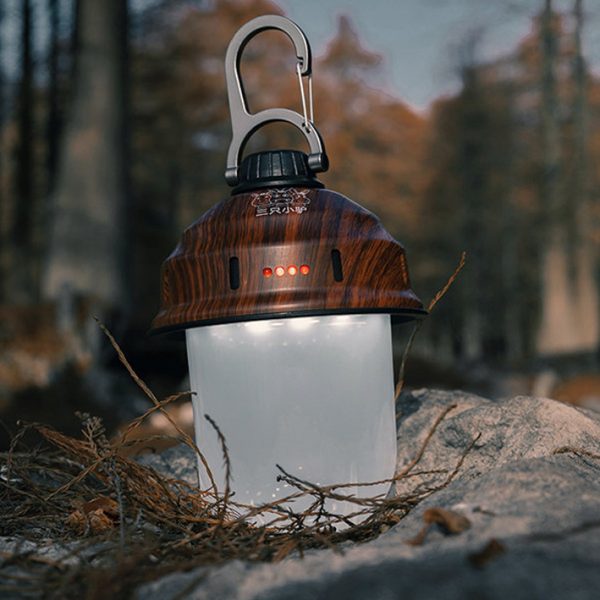 Are you looking for heavy-duty, waterproof camping lanterns that deliver reliable light quality for your outdoor trips? Do you value portability when it comes to choosing lanterns? The OutJourney is one of the best lanterns we've ever reviewed.
The OutJourney is incredible in durability. The lantern's built is made with durable frosted silicon material which also doubles as a waterproof protection against water splashes and rain. We love how you can still count on this lamp even after you've gone through waterfalls, rivers, and streams.
We couldn't help but notice how OutJourney is one of the most portable lanterns in the bunch we reviewed. It comes with sturdy handles that allow ease of carrying the lantern. The covering of the lantern is metal – just the right material for bumps and other impacts that could damage any flimsy lantern in the market.
When fully charged, the OutJourney lasts up to 15 hours. With this lantern, you have 2 lighting options – warm and cool. Perfect for whether you want to see better, or if you want to switch to a more gentle light when you need to sleep.
This LED camping lantern is a great choice if you're looking for durability, portability, and impressive lighting power that could last for a long time.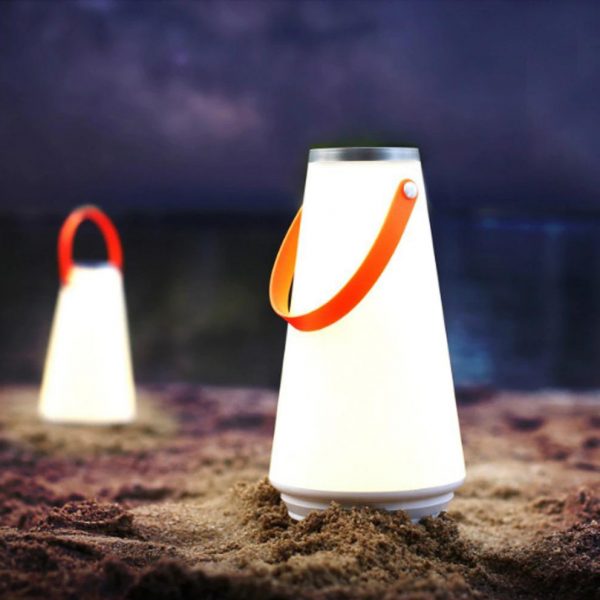 Are you looking for a lamp you can use both for the outdoors and the indoors? Do you prefer a lamp that's proven to last for a long time? When it comes to versatility and longevity, our top recommendation is BeauNomad.
At first glance, BeauNomad will fascinate you with its elegant design, you will definitely consider this if you love glamping. Beyond its looks, the BeauNomad is highly efficient in providing illumination while you're outdoors. This lamp comes with a 360-degree illumination that could light up a 4-meter radius.
The LED light delivers 800 lumens – reliable enough to provide light at night while you conduct your camping activities, or while you're reading a book.
You can use BeauNomad indoors, too. If you need an extra illumination for your desks, you count on this lamp. Considering its elegant design, the BeauNomad can light up your space without compromising your interior's aesthetics!
This is a great gift for campers, glampers, outdoor enthusiasts, and even to students who stay in dormitories.
When you are outdoors, you can't just compromise your safety. A reliable, durable, and efficient camping light can make all the difference in keeping you alert and safe. With a camping lantern on hand, you will be able to sense danger even before you come near it. With the light provided with our highly recommended lanterns, you can camp with confidence because you know you're well equipped.