3 Best Camping Table for Stress-Free Dining Outdoors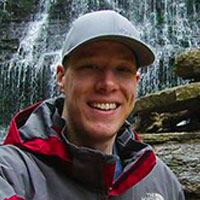 David Jones, Contributor
Updated: Feb 21th, 2022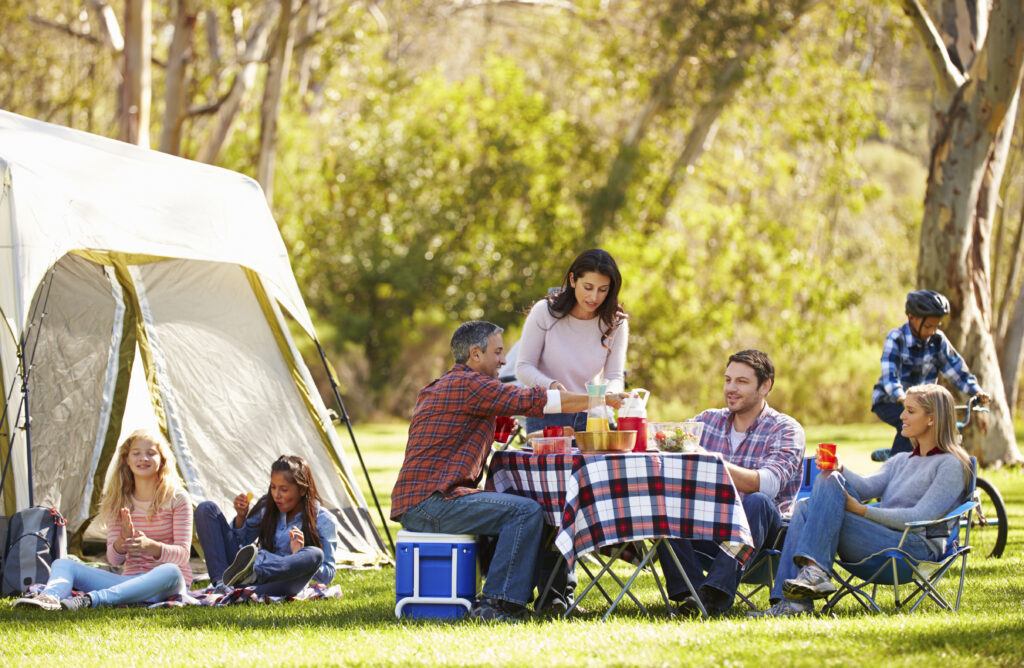 Dining while gazing at the beautiful landscape of the great outdoors is what camping brings. Whether it's for your morning coffee, a quick snack break, or a festive meal to cap the adventure—camping tables are an essential gear to have to make the outdoors feel like home.
Of course, the last thing you want is to have your first-class dining experience with nature ruined by a wobbly, buckling table underneath you. So to save yourself from this mistake, we've reviewed and tested a variety of camping tables to determine which ones are the best for different scenarios.
After months of discussion, we've concluded that these 3 camping tables are the perfect item to bring to make your outdoor dining convenient and comfortable.
Read along.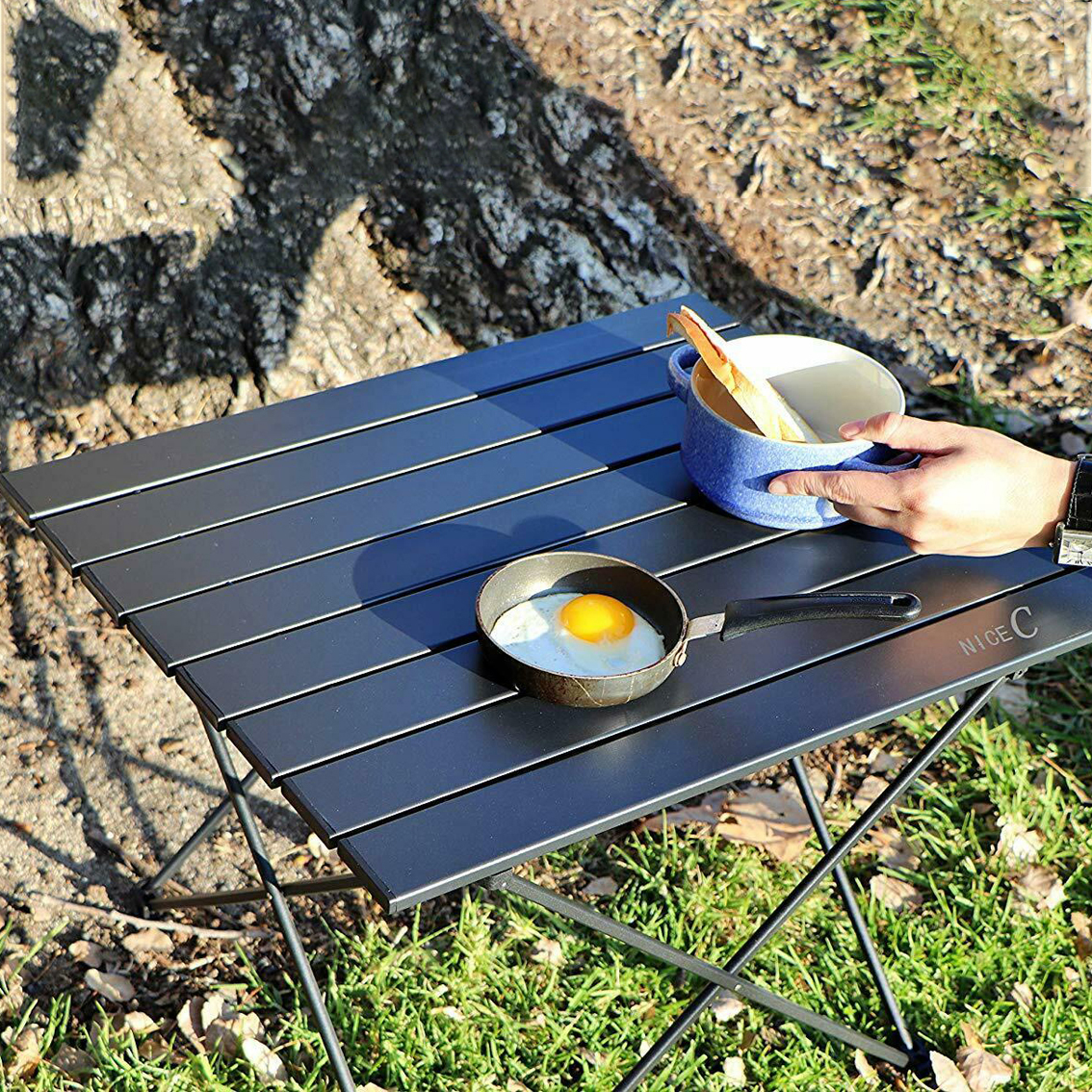 The OutZurt Camping Table is our #1 pick because it's the best multi-purpose table that works indoors and outdoors. It comes in a portable and foldable design that's light enough to take anywhere you wish to travel.
What's impressive with the OutZurt is you can fold it down into a 16" size. Its legs are collapsible and fit inside a small yet sturdy nylon-strapped carry bag. And if you're planning to carry this camping table with you on your backpacking trip, its total weight is only 1,8 lbs (up to 3.2 lbs, depending on purchased size), making it a lightweight addition to your gear.
Although this camping table may be small in size, its total bearing capacity outshines most items in its category. It can wi50 kgs of weight all at once, without any issues. So the OutZurt Camping Table can carry on various tasks to make dining comfortable outdoors.
That's not all. The OutZurt also comes in a sleek and compact design, making it a decent indoor table. Its black, shiny finish suits any aesthetic, making it a perfect addition to your party or home setup. And cleaning is easy peasy, too! With its waterproof, metallic coating, all you need is a clean cloth to wipe the dirt away.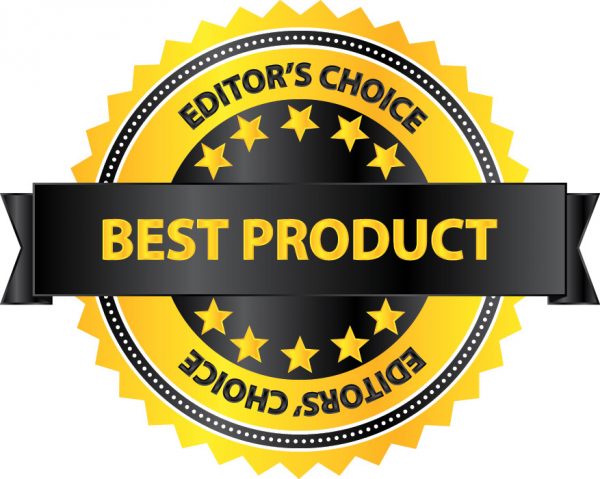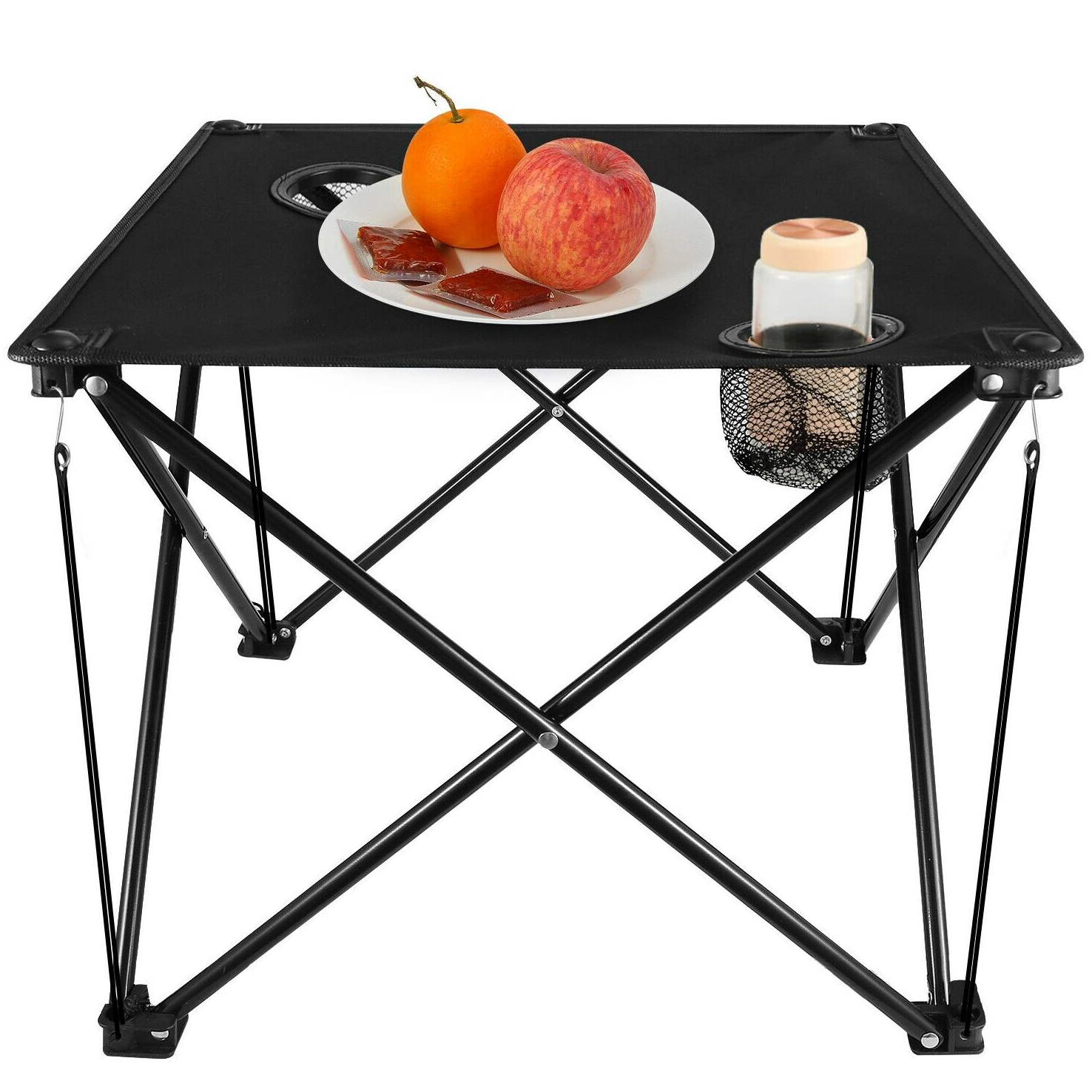 For backpackers, size and weight are crucial factors. And for a camping table that fits your specifications, the Camp-Hackers Camping Table is our best bet. This portable and foldable, square table comes in dimensions 18.5 x 18.5 x 14.96-inches, which can be folded down to fit a 22.44 x 5.5-inches storage bag. 
Even better is that it's made of thickened 600D oxford fabric, which makes it tear-proof and resistant to scratch, abrasion, and stain—which is ideal for backpackers considering the fast-paced and constantly-on-the-move nature of the activity. Although the Camp-Hackers Camping Table is relatively small to fit backpackers' needs, it's sturdy and durable enough to withstand up to 44 lbs of weight. Its X-shape frame makes it capable of carrying such weight and contributes to the table's stable performance regardless of the location.
Overall, the Camp-Hackers is one of the best backpacking camping tables you can get your hands on. It's easy to carry, set up, and store in your pack. And for a pleasant and satisfying experience, it comes with 2 built-in cup holders to secure your beverages while you chill.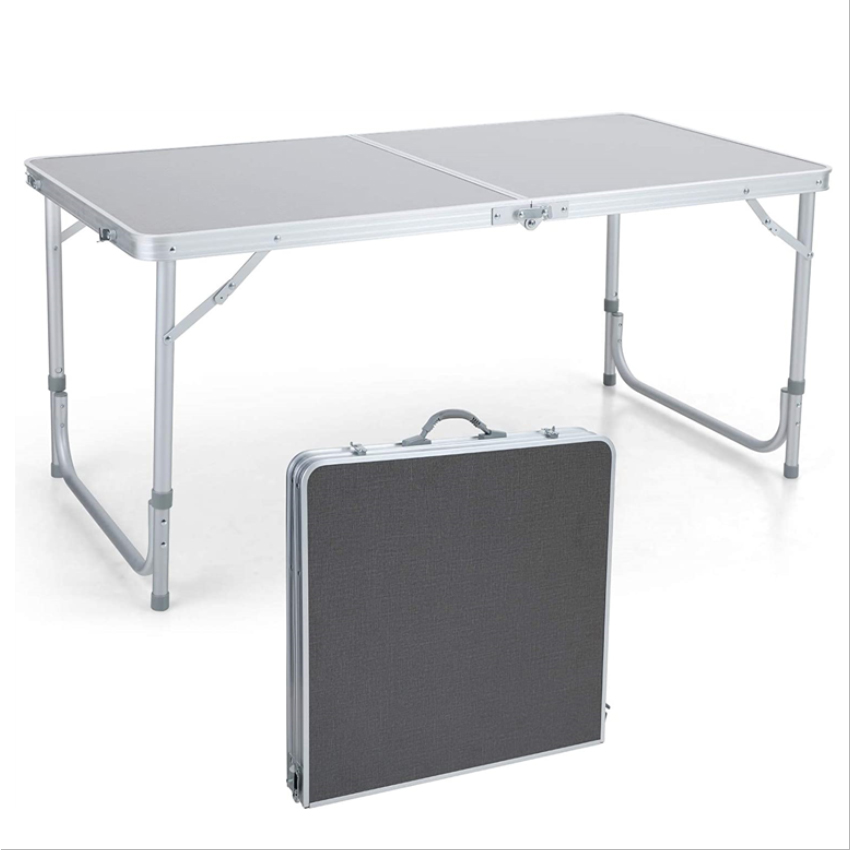 When the camping adventure includes the whole family, you need a camping, picnic-style table to make dining comfortable for everyone. And as per our test, the Inkgga-Camp 4FT Camping Table is a perfect choice. Here's why.
The Inkgga-Camp comes in a dimension of 120 x 60 x 70 cm and stands 4 FT, making it the ideal picnic table for family camping, reunions, buffets, and other outdoor gatherings. This camping table is wide enough to accommodate your guests without cramping.
However, focusing on the outdoor setting, the Inkgga-Camp enables large groups to dine outdoors easily. Its foldable and portable design makes it easy to transport and store in your car or truck, and its high-quality structure and material ensure stable performance.
Moreover, the Inkgga-Camp is adjustable to allow more space for you to use. It can be extended up to 28" in height and 47" in width. And with this size, it can sustain up to 66 lbs of weight without any issues—thanks to its thicker aluminum alloy and tripod structure.
Overall, the Inkgga-Camp is an ideal gear to bring if you're planning to camp in a large group. It's foldable and portable, too, so that you carry and store it with ease wherever you go.
Not all the time; there's a picnic table for you to use when exploring secluded areas. That's why investing in a top-quality camping table is essential to guarantee the best camping experience. So to ensure you get the best value out of your purchase, here are a few recommendations you should consider before purchasing.
What's Your Itinerary?
Are you planning to camp in small or large groups? Or are you going backpacking? Knowing your itinerary is essential to choosing a camping table that fits your activity. A small and lightweight camping table is necessary to store it in your pack without compromising space for backpacking. Meanwhile, for large group camping, a camping table that's large yet compact can provide more room to avoid cramping while dining.
Durable Materials
You don't want your camping table to wobble or buckle while enjoying your soup. A good camping table must be made of high-quality, durable, and sturdy material so that it stays stable while in use, especially with the outdoor's uneven surface.
Compact and Lightweight
Whether you're camping as a group or individual, the camping table you should choose must be compact and lightweight to lessen the hassle of carrying and transporting. It is also great if it comes with a bag to store your camping table after use.
Conclusion
The products we highlighted in this review have passed our criteria for testing. We're confident that these items will serve their purpose in making your outdoor dining experience worthwhile. Give them a try and take advantage of the special offers if you purchase on our site.