4 Best Truck Bed Tent for All Your Spontaneous, Truck Camping Trips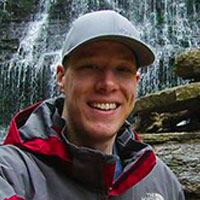 David Jones, Contributor
Updated: Mar 6th, 2022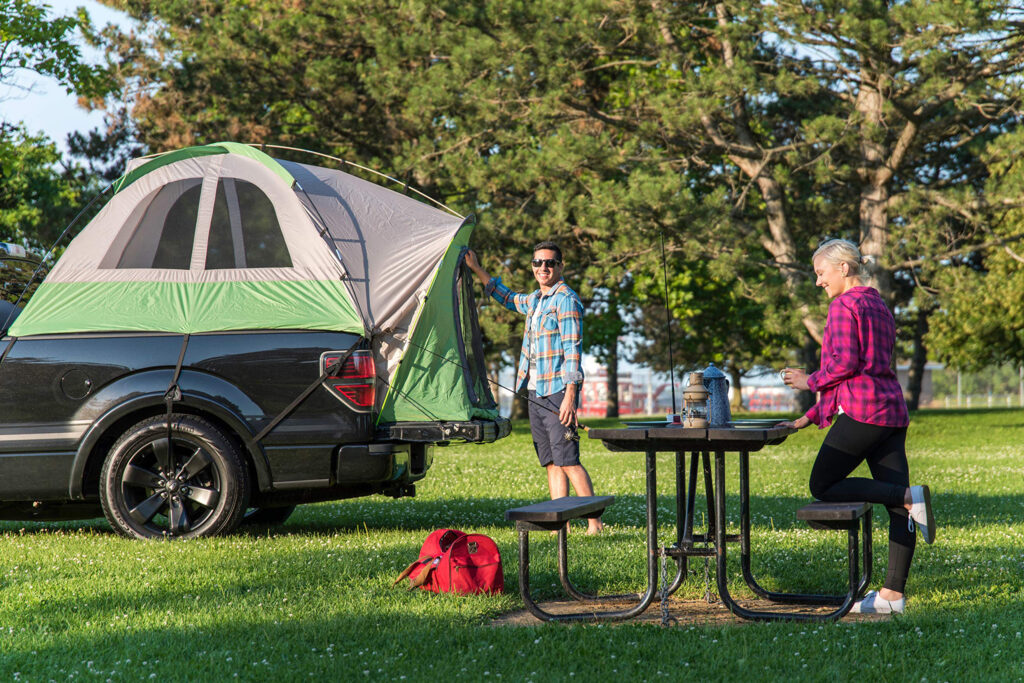 Sometimes, you don't want to end your weekend road trips when the company is too good. As much as possible, you want to spend more time with them or spend the night, regardless of whether you're prepared or not. 
If truck camping is your go-to activity to escape all the hustle and bustle of the big city or as your first-date-move, Truck Bed Tents are the perfect gear to create the most suitable resting place outdoors or make lounging under the stars easy and convenient.
These types of outdoor tents make setting up your resting place on your truck easy-peasy, no matter where you'll go. New models and designs even come with a full weather-proof setup to withstand all environmental factors—making spontaneous trips comfortable at all locations and weather conditions.
We know that finding the best deals with all available options can be challenging. So to spare you the hassle of searching for what fits your needs, we'll share with you our Top 3 Picks for Best Truck Bed Tents to Buy for 2022. We've partnered with camping experts and hyperenthusiastic reviewers to give you an assessment that's 100% trustworthy.
So read along.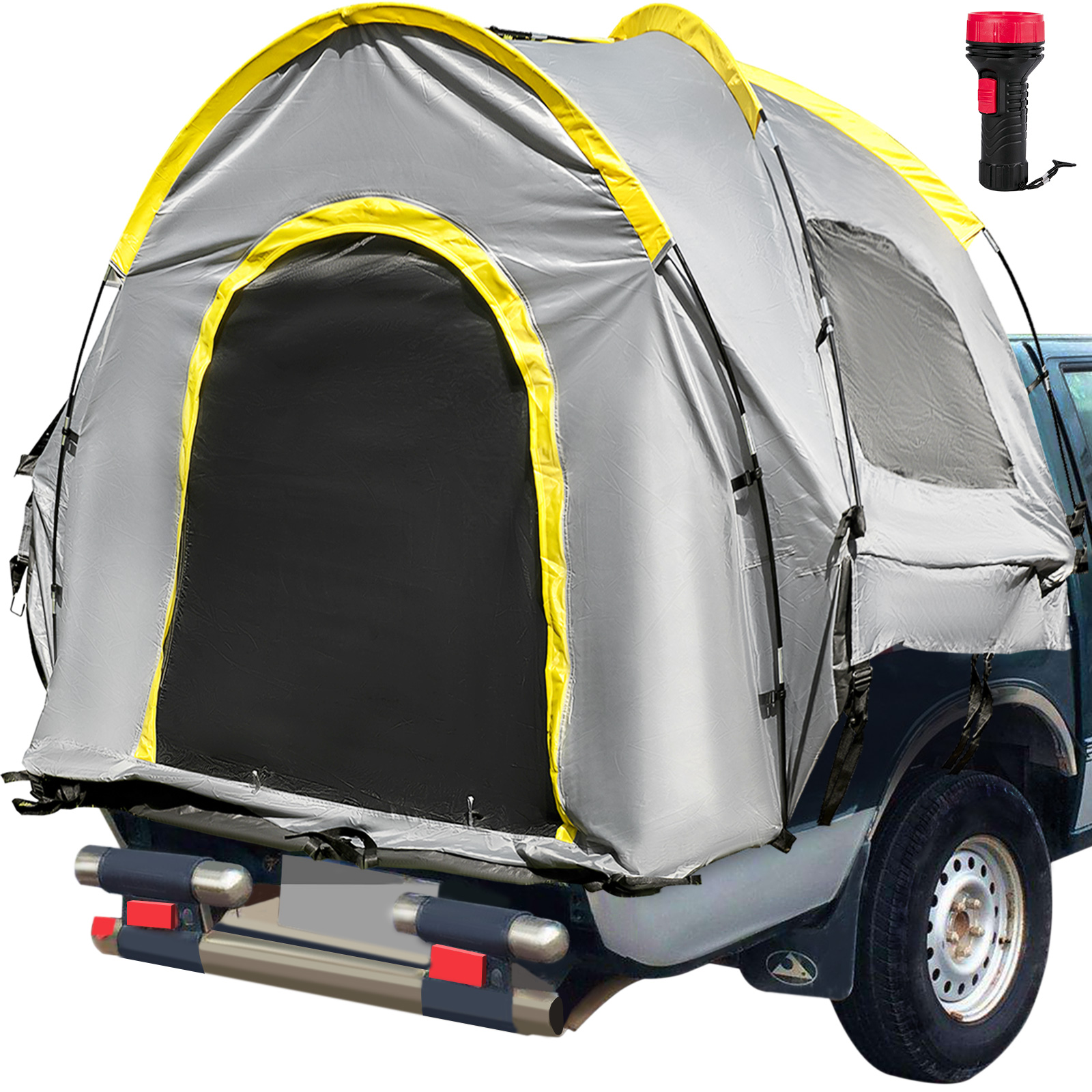 If you're someone who loves to engage in spontaneous road trips—whether it's camping, fishing, or music festivals—we find the INCREDI-CAMP a top-notch convenience. This truck bed tent features a quick and easy assembly that will only take you less than 10 minutes to set up—and that's with minimal effort already. It comes with easy-to-adjust straps and easy-to-follow poles that make installation a breeze regardless of the location.
The INCREDI-CAMP features the best all-weather protection that makes camping anywhere possible. The construction comes with water-resistant Oxford (PU 2000MM) fabric and tape-sealed seams with heavy-duty belts and buckles to withstand the harsh environment of the outdoors. 
And as per its overall stability and durability, the INCREDI-CAMP is one of the sturdiest we've tested. Honestly, we never encountered the poles or straps breaking for the many nights we've used this truck bed tent in various locations. The bars and the overall framework convincingly withstand the gush of wind, and its all-weather protection kept us dry all night. Hence, we're 100% convinced this outdoor tent would give you peace of mind.
One more thing that makes the INCREDI-CAMP special is its large viewing windows that function as add-on ventilation to minimize the heat or to help you create that perfect relaxation atmosphere. The interior is also spacious enough for 2 people to lounge without cramming, which is essential to make your "night outdoors" comfortable and stress-free. And to complete the experience, the INCREDI-CAMP comes with fully-stitched waterproof flooring to ensure a clean and dry place for you to lounge.
All in all, the INCREDI-CAMP guarantees you'll have the best time outdoors. It's sturdy, weather-proof (without the need of a rainfly), and user-friendly. And once not in use, this truck bed tent can be stored easily in its storage bag and left in your truck's compartment so that you're always ready for any adventure.
Sizes Available:
8FT Full-Size Truck

6.5FT Full-Size Truck

5FT Tall Bed

6.4-6.7FT (Adjustable) Truck
Best For:
Campers

Hikers

Hunters

Fishers

And even just nature enthusiasts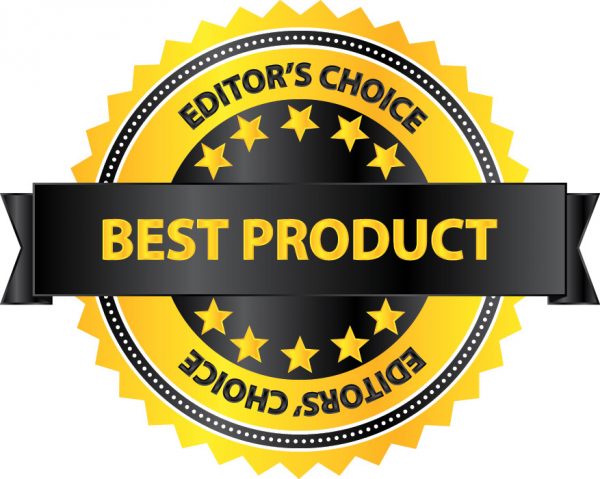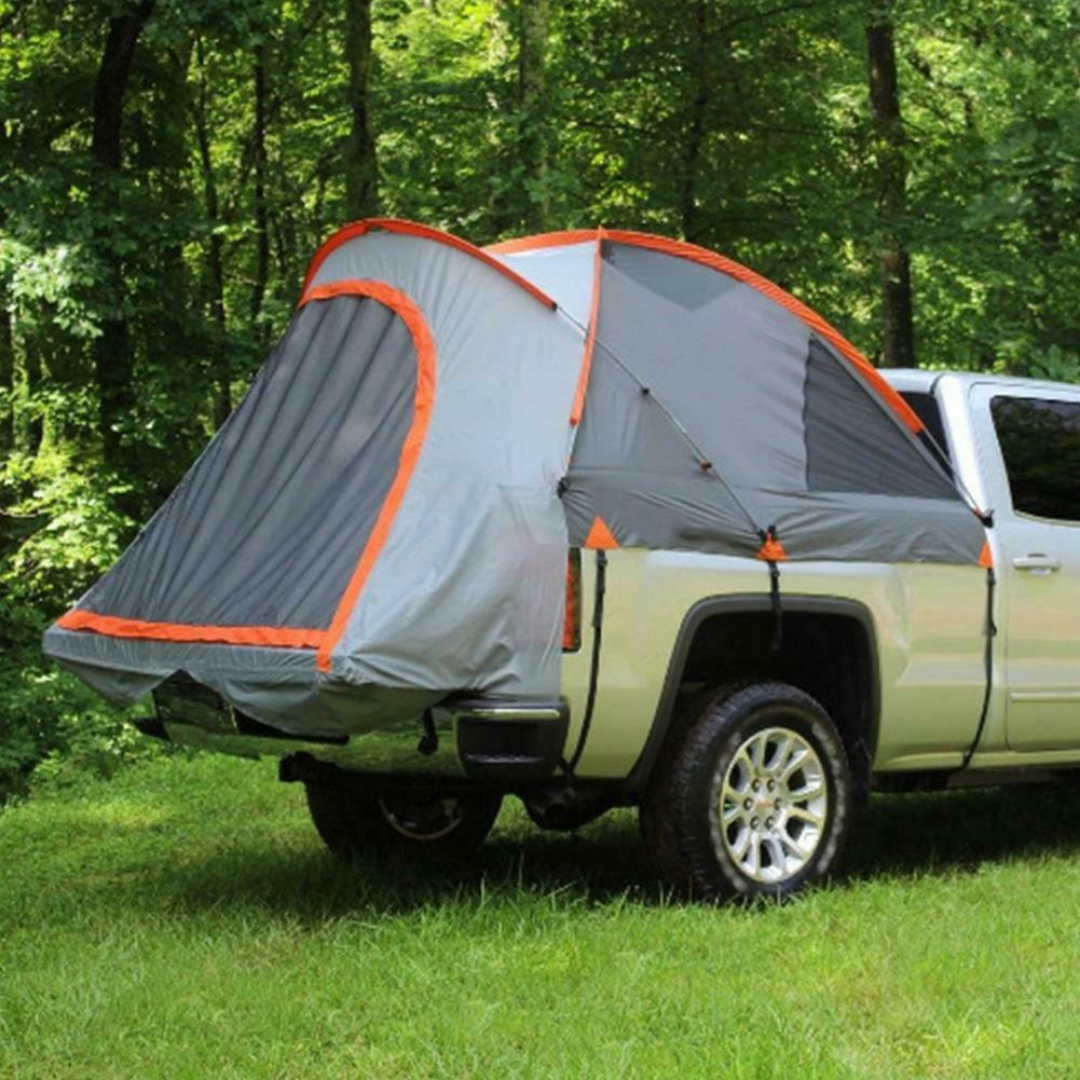 Sometimes, even the most seasoned camper finds it hard to set up their tents. What more if you're new to truck camping? Well, it's understandable. So for a seamless installation, the next time you go for a road trip, here's a truck bed tent that's specifically designed to make pitching easy-peasy!
The Camp-n-Go features a color-coded pole and sleeve to make assembly quick and convenient. All you need to do is match each color, and you're good to go! No additional setup is required because everything you need is included in the package. Plus, there's an installation guide for you to follow.
Of course, it's not the only advantage this truck bed tent can offer you. What we love about this tent is the spacious interior that comes with ample headroom. Yes, no matter if you stand over 6-feet, the Camp-n-Go provides enough space to make going in and out easy.
Also, this truck bed tent is weather and security-proofed! Its construction comes with a full rainfly and storm flaps located in the windows and doors. The frames are also made of glass fiber, which is 2x better than traditional tent bars. This design allows the Camp-n-Go to provide better protection from rain and withstand calm winds to moderate breezes easily. So camping in various locations is 100% possible.
Overall, the Camp-n-Go delivers a great experience. It's sturdy enough to survive harsh conditions and convenient enough to make setting up less of an issue. Hence, your peace of mind is guaranteed!
Size: 5.5FT to 5.8FT
Best For:
Spontaneous Road Trips

Mountain Trekking

Beach Outing

Starter tent for truck camping beginners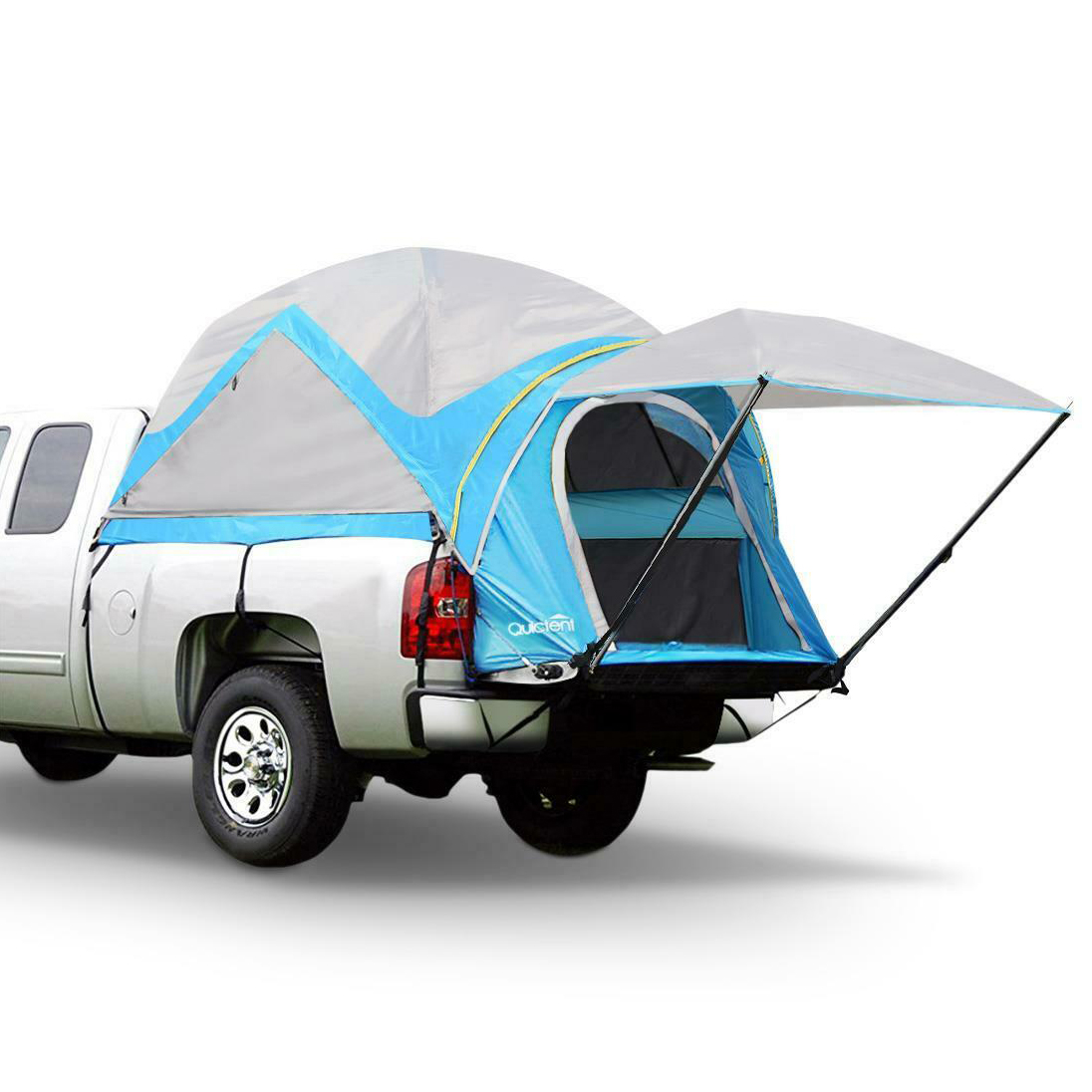 If you prefer a canopy-style truck tent for your fishing, beach, or any other outdoor trips, then the ERTEA-CAMP is our best bet. This item features the best, top-of-the-line features compared to other products in its category.
Starting with the tent's interior, it comes with a 65" width and 63" height which can comfortably fit 2 people without cramming. And for its expandable canopy, the dimensions are 48" L and 48" W, which can cover an ample space in front of your truck for extra shading. So if you want to create a mini space to set up your table and chairs, the ERTEA-CAMP's canopy is perfect for the job.
When it comes to its overall structure and sturdiness, the ERTEA-CAMP is hands down one of the best. First, its weatherproof design comes with PU 2000mm waterproof fabric with taped seams to guarantee the interior stays dry regardless of how much it rains. The floors come in a fully-sealed PU 400mm waterproof fabric that's sure to keep the interior clean, dry, and cozy.
As per its structure, the ERTEA-CAMP gives you a full-sized door with windows on all sides to ensure you get the best ventilation. Each window comes with water-repellent covers to prevent water from entering. There are also multiple attachment points that you can use to hold your lanterns, small fans, and other gears. The best part is, with all these fantastic features, you'll only take about less than 5 minutes to set up the truck tent fully. Plus, the poles are color-coded for convenience.
Overall, the ERTEA-CAMP is an excellent choice for people who treat their truck tent as more than just a resting place—but a space to lounge, drink, breathe, and enjoy the incredible landscape.
Size: 
65" Width and 63" Height

75" Interior

It fits 5.5 to 5.8 FT Truck Beds
Best For:
Fishing

Weekend Outdoor Parties

Family Gatherings

Festivals

Camping

Hunting

Other outdoor activities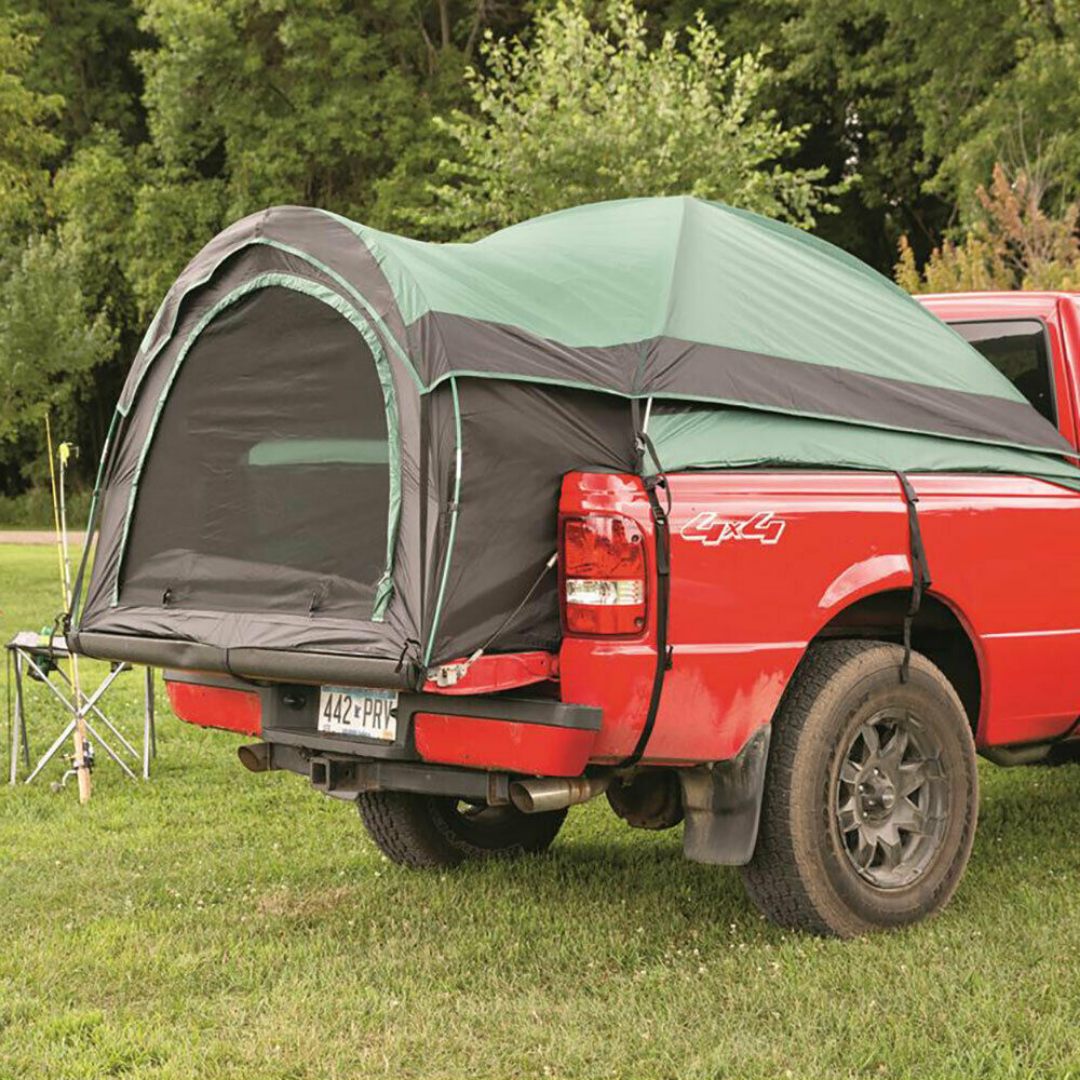 The SUPREMATIC Truck Bed Tent tops our list when it comes to versatility. This one could rival even the most popular brands at a much lower price. And here's why.
The SUPREMATIC champions the best interior space out of all the products we've tested. Its sizeable interior area can fit 2 people comfortably with 4.75' of headroom. You can even squeeze a 72 to 75-inch bed inside, with enough space for your other essentials and bags on the side.
When it comes to weather-proofing, this tent also offers one of the best support. Its 190T polyester with a 1500mm water-resistant coating can keep you dry and cozy inside no matter how hard it pours outside. Plus, its shock-corded fiberglass poles and tension straps support the tent exceptionally well. It can withstand even strong winds and snows, giving you peace of mind whenever you decide to spend the night outdoors unplanned. 
What makes the SUPREMATIC even more impressive is its all-season support. This tent comes with a rainfly to ensure you stay dry during rainy days. It's also designed with 2 mesh windows and 1 large D-shaped door for additional ventilation to combat the scorching heat. The best part? All of these can be packed into one weather-resistant carrying bag that you can leave at the back of your truck for easy transport.
Of course, just like the other products on this list, the SUPREMATIC is extremely easy to set up too. And as per our test, it fits most trucks like Chevy, Ford, GMC, and so on. 
Size: (L x H): 74″ x63 " inches
Best For:
All-season Camping

Fishing

Long or Short Road Trips

Mountain Trekking

Hunting
If you love to take your truck for a weekend getaway, then a truck bed tent is the best gear to invest in for convenience and comfort while traveling. The ease of setup and the convenience of full-weather protection makes it ideal for any type of outdoor adventure. It's as simple as: wherever the truck fits, you sleep. But to ensure you get the best experience out of your truck bed tent, you have to make sure it's quality. That said, here are a few recommendations you should consider before buying.
Choose the right size that fits your needs.
Before you click on the purchase button, always remember that different trucks, different sizes. So consider measuring the width and length of your truck first (tailgate open) to ensure that what you're dealing with fits perfectly.
Opt for full-weather protection
The weather is very unpredictable, and if you often engage in spontaneous road trips, choose a truck bed tent with full-weather protection to guarantee you'll stay dry and cozy regardless of whether you spend the night or not.
Quick and easy assembly
It's a no-brainer that you want your truck tents to install easily. Choosing tents that require complicated installation could only cause stress to you and your company. If you're not a very seasoned truck camper, choose those with color-coded poles so that you won't find yourself lost during the process.
Choose your preference
There are a variety of designs to consider when choosing a truck bed tent. There's a canopy-style, Overlanding, and so on. Hence, choose a truck bed tent that fits accordingly to the activities you have in mind. If you want to create a resting place and a space where you can mingle with other campers, then a canopy-style best suits your needs. Meanwhile, if you're up for mountain trekking or long drives, then truck tents with ample space and complete security and weather protection is the most ideal.
Conclusion
The products we highlighted in this review have passed all our testing criteria. They offer convenience, ease, and quality in almost all types of locations and weather conditions. That said, we guarantee that every product listed on this page will work to your satisfaction and are 100% investment-worthy.